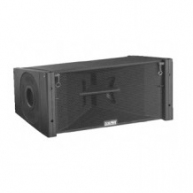 The KF730 SLAM (Small Line Array Module) packs a six-driver, horn-loaded KF Series design into an amazingly compact enclosure, setting a new record for output per cubic meter.

The full-sized mid/high horn fills the entire face of the enclosure, ensuring broadband 110 degree horizontal pattern control. The unique Phase Aligned LF design extends horizontal pattern control into the LF and a bi-amplified powering configuration (passive mid/high) reduces total system cost and complexity.

Users can quickly and easily construct vertical arrays ranging from 4 to 18 enclosures. As with the KF760 Series, the size and configuration of a KF730 Series array defines its vertical coverage. In most Cases, choosing the correct points on the multi-position fly bar will aim the array, although some radically angled configurations will require pull back using an inverted fly bar.
Eastern Acoustic Works
Eastern Acoustic Works (EAW) is the global leader in high-performance, professional loudspeaker system design and manufacture. Based in an historic mill complex in Whitinsville, Massachusetts, USA, EAW gives audio professionals a comprehensive tool kit that helps them deliver customized sound reinforcement solutions for venues and events around the world.
Used Line Array Speakers
Find used line array speakers and line array elements from such popular brands as L-Acoustics, d&b audiotechnik, Meyer Sound and Nexo. All used line array speakers are warrantied and in most cases inspected by factory certified technicians. Solaris sells and buys secondhand and used line arrays for large concerts, tours, stadiums and auditoriums. Call us if you don't find it and we will find it for you.
KF730 Package - Package of (12) KF730 package in good condition. Price is for all 12 units.
KF-730 - Package of (12) KF-730s.
KF-730 SB-730 - Package of (3) KF730 and (2) SB730. These units were used in corporate events.
KF-730 - Package of (16) KF-730 in good condition. Previously used in rentals.
KF-730 Package - Package of (10) KF730, (1) Lake Contour processor, and (4) Lab Grupen FP7000 amps.
KF-730 - KF-730 in good condition. Minimum purchase of (4) units. Priced per unit.
KF-730 Package with Amps - Package of (16) KF-730 with amps in good condition. Previously used in an installation.
KF-730 - KF-730 System in good condition, previously used on tours.
KF-730 - Turn Key System of (12) KF730, (8) SB1000 Subs, and (4) SB730 Subs in superb condition.
KF-730 Package - Package of (10) KF-730, (4) SB1000, (1) Dolby Lake and (3) FP7000.