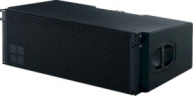 J8 loudspeaker
The J8 is a 3-way design housing 2 x 12" LF drivers, one hornloaded 10" MF driver and two 1.4" exit HF compression drivers with 3" voicecoils mounted to a dedicated wave-shaping device. The mechanical and acoustical design enables flown vertical columns of up to twenty-four loudspeakers to be suspended using vertical splay angles between them of 0deg to 7deg with a 1deg resolution. The cylindrical wave segments produced couple coherently in the vertical plane. Due to the dipolar arrangement of the neodymium LF drivers the exceptional 80deg horizontal constant directivity dispersion control is nominally maintained down to 250 Hz. The J8 is acoustically and mechanically compatible with the J12 loudspeaker. It can be used in columns of purely J8 loudspeakers or combined with J12s and / or with J-SUBs. The J8 cabinet is constructed from marine plywood and has an impact and weather protected PCP (Polyurea Cabinet Protection) finish. The front of the loudspeaker cabinet is protected by a rigid metal grill, the side and rear panels incorporate four handles, and two EP5 or NL8 connectors wired in parallel are also mounted at the rear.


Amplifiers
The J8 can only be driven by d&b's D12 dual channel amplifier configured for the J8. More detailed information on specific loudspeaker setups with the D12 amplifier is available either in the relevant loudspeaker or D12 manual.

db audiotechnik
d&b audiotechnik has been developing, manufacturing and distributing loudspeaker systems since 1981. The company operates internationally in the field of electroacoustics to produce high quality products for reinforcement of speech and music. Through the amalgamation of technological developments, system integration principals, quality of construction and standards of service, d&b pursues a systems approach that includes all aspects of design, development, manufacture and support. d&b's loudspeakers are used globally in rental and installation markets for events, multimedia, musicals, concert halls, theatres, opera houses, broadcast and everything from the smallest conference room to the largest stadium.
Used Line Array Speakers
Find used line array speakers and line array elements from such popular brands as L-Acoustics, d&b audiotechnik, Meyer Sound and Nexo. All used line array speakers are warrantied and in most cases inspected by factory certified technicians. Solaris sells and buys secondhand and used line arrays for large concerts, tours, stadiums and auditoriums. Call us if you don't find it and we will find it for you.
J8 - D+B j-system including (16) J8, (4) J12 and amps.
J8 - d&b Audiotechnik package. From 2010 - 2011. In great working order.
J8 - Used on a few corporate rentals.
J8 Series - J-series package. Used on various rentals.
J8 Series - J-Series package. Used on various rentals.
J8 - J8 Sound System in great condition.