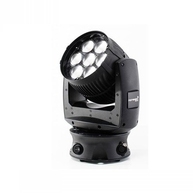 Its small size does not give way to any compromise though, as the heart of the Impression X4 S features seven high powered RGBW LEDs, each rated at 15 Watts, that combine to give a homogeneous output across its entire beam range. The zoom itself offers flexibility in a tight beam mode and also as a smooth edged wash light. A ratio of 7:1 provides a variable beam from 7 and all the way to 50.

Full control over the quad color LEDs is done via DMX, with additional control over color temperature as standard. The X4S features precise full range dimming with no color drift at low intensities and a variable speed electronic strobe.

But the unique feature of the Impression X4 S is the ability to control the intensity of each LED individually, allowing you to program unique looks and animations on the fly.

Physically the Impression X4 S measures just 12 inches tall and weighs just 12 lbs. Rubber feet mounted to the base allow it to stand on its own, or for hanging there are threaded sockets in the base allowing clamps to be directly inserted into the unit and keeping rigging height as low as possible.

The elegant design of the X4 S contains a yoke mounted LCD display for addressing and configuring each unit, with the base section containing data and power connections. The X4 S contains an auto sensing Power Supply from 100-240V at 50 or 60 Hz. with Neutrik Powercon in and thru connectors.
GLP
GLP Light Products GmbH was founded in 1994 by Udo Kuenzler. Since then GLP has become the established brand name of high-quality and innovative lights for the professional lighting market. GLP is today one of the leading manufacturers of high-class lighting technology with a focus on quality and affordability. Our technology is driven by a constant dialogue with our customers to ensure a level of product innovation that exceeds expectations. GLP Products are used in many different applications within the entertainment and architectural market segments. Television, touring, exhibitions, night clubs and commercial shops are just some of the areas of application where our products shine. Our lights are renowned for their quality, reliability and design - as are our range of lighting controllers. All GLP products are developed through the passion and customer focus of our engineering development team based at the headquarters in southern Germany. We manufacture our lights and controllers at several production sites in and outside the EU. The manufacturing sites go through arduous testing periods before they are ramped up for production, and an intensive quality control by German engineers is carried out at every site to ensure the highest level of quality and reliability. GLP - German Light Products GmbH Im Stöckmädle 13 76307 Karlsbad Germany
Used LED Moving Lights
LED moving lights are used for stage lighting and to illuminate important scenes. Unlike regular lights these lights have additional automated capabilities and mechanical abilities that regular lights simply donâ??t have. The LED moving lights most commonly utilized for stage performances also have the ability to produce intricate special effects. Featuring immense versatility and multi-functionality, LED moving lights have almost completely replaced the out of date non-moving lights used in the past. When used properly LED moving lights have the ability to change the complete personality of a show. Most shows preprogram the lighting for their shows, which will decrease the chances of human errors during a live performance. Moving lights are usually controlled via a lighting control console from a booth, which communicates with a control signal. Data from the control signal is then sent to an analogue, Ethernet control or DMX. Generally, moving lights are controlled by DMX protocol, which consists of 5-pin XLR connectors and shielded cables. Just like other types of moving lights, LED moving lights can be easily altered. Some variables that can be changed include the color of the light, intensity of the light, pattern of light, swing pattern, and speed. The only disadvantage of using LED moving lights instead of analogue lights is that take more time to program and get used to. However, there are many expert programmers and LED moving light operators out there that can easily control the multiple features of the lighting board console. Innovative LED moving lights are now trying to integrate digital projectors with the lights. They will be able to control the intensity of moving lights, the focus of the lights, as well as the video content display behind the lights.