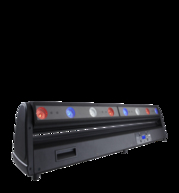 All the amazing features and performance of the award winning Robe LEDWash luminaires in a 1000 mm moving linear strip.

An array of individually controlled 15W RGBW LED modules equally spaced along the strip with fully adjustable zoom from 8-67 degrees. The strip itself has a very fast 270 degree tilt movement which can be precision indexed or programmed to produce rapid sweeping movements. Pre-programmed colour macros and pixel control makes this fixture quick and easy to programme. Tungsten lamp emulation and fade effects at 2700 K and 3200 K are included. Wireless technology CRMX is available as an option.
Robe
Robe Show lighting . Manfuacturer of high quality Intelligent Lighting systems and products. ROBE Lighting, Inc. Headquarters: 13807 N.W. 4th Street, Sunrise, Florida 33325 Tel.: (954) 615-9100 Fax: (954) 615-9105
Used LED Moving Lights
LED moving lights are used for stage lighting and to illuminate important scenes. Unlike regular lights these lights have additional automated capabilities and mechanical abilities that regular lights simply donā??t have. The LED moving lights most commonly utilized for stage performances also have the ability to produce intricate special effects. Featuring immense versatility and multi-functionality, LED moving lights have almost completely replaced the out of date non-moving lights used in the past. When used properly LED moving lights have the ability to change the complete personality of a show. Most shows preprogram the lighting for their shows, which will decrease the chances of human errors during a live performance. Moving lights are usually controlled via a lighting control console from a booth, which communicates with a control signal. Data from the control signal is then sent to an analogue, Ethernet control or DMX. Generally, moving lights are controlled by DMX protocol, which consists of 5-pin XLR connectors and shielded cables. Just like other types of moving lights, LED moving lights can be easily altered. Some variables that can be changed include the color of the light, intensity of the light, pattern of light, swing pattern, and speed. The only disadvantage of using LED moving lights instead of analogue lights is that take more time to program and get used to. However, there are many expert programmers and LED moving light operators out there that can easily control the multiple features of the lighting board console. Innovative LED moving lights are now trying to integrate digital projectors with the lights. They will be able to control the intensity of moving lights, the focus of the lights, as well as the video content display behind the lights.