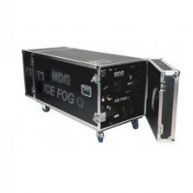 Unlike traditional dry ice machines, our ICE FOG generators use liquid CO2 or liquid N2 to create low fog. The result? Maximum low lying fog with zero residue.

Extremely quiet, adjustable low fog output
Self-contained unit on wheels for easy transport
Compartments for accessories
Compatible with Remote Control timer and DMX interface
Detachable Remote Control and 8 m (26 ft) Cable included
MDG
MDG is a planning, design and management consultant firm based out of Woodside, CA, with offices also in San Francisco, CA.
Used Foggers and Hazers
Foggers and hazers are used on stage and in concerts in order to produce a smoke or gog-like effect during live performances. A fog machine is not just limited to the entertainment arena however, as it also has some use for military and industrial applications, as well as personal use to their cost coming down. How does a smoke machine work? Typically, foggers and hazers vaporize a mixture of water and glycerine fluid or glycol fluid by atomizing a kind of mineral oil. The vaporized fluid disperses into a thick cloud of artificial fog once it comes into contact with the moisture in the air when itā??s released. Foggers and hazers are most commonly seen in theatrical productions, where they are especially useful for setting the mood or creating the right kind of atmosphere during certain scenes in a play. In addition, foggers and hazers are quite commonly seen in haunted houses and Halloween displays, as the fog generated adds to the creepy atmosphere. Itā??s also become fairly common to see a fog machine during concerts, for example to add to the suspense before the performers come out onto the stage. Nightclubs are another common venue for foggers and hazers, as they are able to enhance laser and other lighting arrangements due to the fogā??s refractive and reflective qualities. However, haze machines are slowly superseding foggers and hazers in nightclubs.