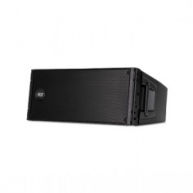 The careful acoustic design, no compromise transducers and a unique, composite cabinet, design make the HDL 20-A the preferred tool of many professionals. Perfect in live sound reinforcement and reliable installed situations.

The HDL 20-A is the ideal choice when line array performance is needed and a fast and easy set up is a must. The system is powered from a 1400 Watt Peak Power 2 way digital amplifier, sound is processed from a powerful DSP. The processing includes cluster and HF projection correction and special new presets for indoor and high curving situations. The system features state of the art RCF transducers, two powerful 10" for a solid bass reproduction and a large format 3" voice coil Compression Driver to deliver vocal clarity and high definition with an incredible dynamic.
RCF
RCF was founded in 1949 in Reggio Emilia, an Italian city with excellent mechanical and electronic industries. Over the years the company has established itself as a world leader in design, production and marketing of high technology Professional and Commercial Audio products. Throughout its history the company has continued to expand and diversify to satisfy every audio and musical amplification need: from single systems to big, complex projects. For sixty years the main administrative and production facility has been in Reggio Emilia where the company has a highly professional and specialized personnel. RCF markets its products through sales offices in the United Kingdom, Germany, France, Spain and United States. In the rest of the world the Company operates through a consolidated, capillary network of distributors. Today RCF employs more than 250 people and sells its products in more than 100 countries worldwide. Since 1995 the company has been ISO 9001 certified.
Used Line Array Speakers
Find used line array speakers and line array elements from such popular brands as L-Acoustics, d&b audiotechnik, Meyer Sound and Nexo. All used line array speakers are warrantied and in most cases inspected by factory certified technicians. Solaris sells and buys secondhand and used line arrays for large concerts, tours, stadiums and auditoriums. Call us if you don't find it and we will find it for you.
HDL 20-A - HDL 20-A in mint condition, previously used as a demo unit.