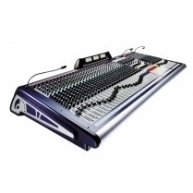 Database Error
Message:
MySQL Query fail: select REGISTERED_MODEL, ID_REG_MODEL, registered_manufacturers.REGISTERED_MANUFACTURER FROM registered_models LEFT JOIN registered_manufacturers ON ( registered_manufacturers.ID_REG_MANUF = registered_models.ID_REG_MANUF ) where REGISTERED_MODEL REGEXP '[[:alnum:]]+' && SEO_EXCLUDE_KEYWORD != 1 && LENGTH(REGISTERED_MODEL) >= 5 order by rand()
MySQL Error:
Error writing file '/var/tmp/MYrCmdnJ' (Errcode: 28 - No space left on device)
Date:
Thursday, November 23, 2017 at 9:09:36 PM
Script:
/used/gb8/45544
Augmenting the already highly successful GB4 console range is the new GB8 8-bus console. The GB4 has found many friends including the Cavern Club in Liverpool, and in use at the Bedford venue in South London.
Available in frame sizes from 16 to 48 channels, each with four full-function stereo channels and four stereo returns, the GB8 is designed for installations such as churches and performance venues, or for small touring sound systems. The dual-mode topology implemented to such success on the MH3 and MH4 desks allows the GB8 to be used on FOH or monitor duties, with fader control of group or aux outputs. Additional features over the GB4 include a 1kHz oscillator and a meter bridge with three led meters that very closely emulate the ballistics of VU meters.
Four mute groups allow several channels to be muted simultaneously, while another unique facility is the limiter on both the Record and Alternate stereo outputs that makes it easier to create a stereo
Recording
of the mix.
The console also features an output matrix with eleven feeds to four outputs, being fed from the group busses and main L, R and C (mono) outputs.
Although largely conventional in layout, the GB8 does have some unique mechanical features. The rugged steel chassis has a sloping rear connector panel so that it is easier to configure from the front of the desk, while the integral power supply has a link option for an external back-up PSU.
Both the GB4 and GB8 desks carry the high quality hallmark with which
Soundcraft
is synonymous, with engineering and design, as you'd expect from this high-end manufacturer. Careful attention has been given to the mechanical construction, to ensure reliability under strenuous conditions, with all input modules being constructed with individual vertically-mounted pcb's, fitted to the steel chassis front panel with individually-nutted potentiometers.
The GB Series also shares the stylish looks of the MH4, MH3 and LX7ii consoles, continuing a
Strong
family look and feel across the range.
Soundcraft
Founded in 1973, Soundcraft first made its mark with the launch of the Series 1, the first mixing console in a flightcase. Back in the early 70's, the music touring business was just beginning - and the transportable mixing desk quickly became popular among the bands and the new PA companies that were springing up to rent out sound equipment. From what was then a small company in central London, Soundcraft expanded and started to diversify. The company designed a mixer for recording - the Series 2 - and began to build a reputation for great-sounding desks, which is often referred to as the favoured 'British Sound'. Design and innovation has always been one of Soundcraft's major strengths. Over the years it has introduced a number of industry-favoured consoles such as the Series 4, 2400, TS24, 8000, 200B, 6000, Delta, SAC200 and the Spirit Folio range, and more recently the Series FIVE, FIVE Monitor and Broadway. Today Soundcraft has a network of 88 distributors selling and supporting its products world-wide. Part of the Harman Pro Group, Soundcraft is still very much the dedicated professional mixing console designer and manufacturer it was back in 1973. It now boasts a range of mixers which are designed for use in live sound, recording, post-production, TV and radio production and disco applications. Harman is an international company which comprises a group of dedicated manufacturers of audio equipment spanning professional audio, in-car systems, multimedia and hi-fi consumer products.
Used Analog Mixing Consoles
Database Error
Message:
MySQL Query fail: select MODEL, ID_ITEM, SUBTITLE, DESCRIPTION, QUANTITY,STATUSS from items where STATUSS LIKE '%SOLD%' && PRICE_FINAL_US >0 && QUANTITY >0 && ID_ITEM != 45544 && ID_REG_MODEL = 2079 && LENGTH(SUBTITLE) > 0 && LENGTH(DESCRIPTION) > 0 order by rand()
MySQL Error:
Got error 28 from storage engine
Date:
Thursday, November 23, 2017 at 9:09:36 PM
Script:
/used/gb8/45544