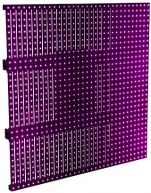 Pixel Pitch : 37.5 mm (1.5 inch)? Transparency: 55 percent? Curtain Composition: Al-alloy frame, electronics onboard w/ rubber gasket for weatherproof IP 65 rating? Tile Size: 600 X 600 X 75 mm/tile (2 x 2)? Tile Weight: 4.5 kg/tile (10lbs.)? Tile Area: 0.36m2/tile? Luminosity: 2000 nits? Color Temperature: 6500 k? Visual Angle 110 / 50 degree (50 precent brightness)? Visual Range: 160 / 120 degree? Pixel Configuration: 1R 1G 1B (DIP)? Tile Rsolution: 16 x 16 pixels/tile? Pixel Resolution: 711 pixels/m2? LED Quantity: 2133 LEDs/m2? Color Number: 14 Trillion? Processing Depth: 14 bits? Contrast Ration: 2,000:1? Life Span: 100,000 hours - LED: 50,000-70,000 hour - floor body? Frame Rate : 60Hz? Data Refresh Rate: 800Hz? Display Mode: Synchronous with video source? LED Failure Rate: 1/10,000? MTBF: > 10,000 hours? Drive Mode: Static, Constant Current Drive? Power Supply: AC 100-240V, 50Hz or 60 Hz? Working Voltage: DC 5V? Power Consumption: 250 w/m2(max): 150 w/m2(average) / 60W per panel? Ingress Protection: Front: IP65, Back: IP65? Ambient Temperature: -20 to +50 Celsius Degree? Relative Humidity: 10 percent to 99 percent.
Elation
Elation Professional - Professional Lighting & Entertainment Products and Accessories!
Used Video Panels
Video panels are used in concerts in order to create a large video wall for displaying visual effects and close-up shots of the performers during the concert. A video wall panel, also called a visual display panel or video tile, can be made from various different technologies, such as LCD panels, LED panel, rear projection screens and DLP tiles. LED video panel technology is one of the most favored types in video panels, as it is cheap to use, doesn'??t overheat and provides an exceptionally sharp, clear image on the screen. Video panels are preferred to a single, extra large video screen for a number of reasons, not least because of the cost involved in creating an extra large video screen. Video panels can be disassembled, making them easier to transport, and they can also be customized '?? for example you can have an outdoor video panel or an indoor video panel, and by using individual panels the pixel density is usually much greater. One notable feature of video panels is that the '??bezels'?Ě, the plastic surround that lines the edge of the video tile, is especially narrow. These are kept as narrow as possible on video panels so that the image on the finished video wall is not impacted noticeably by separating lines. Although it would actually be feasible to use multiple television sets or computer monitors to make a video wall, specially designed video panels are the preferred option, as they feature the necessary hardware to allow for smooth integration of all the video tiles used. This makes video panels easy to connect together with regards to power source and commands between the different screens, so their brightness and contrast can be easily calibrated.