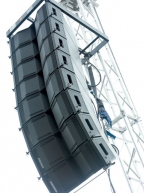 DHE Professional purchase extensive
HK Audio Cohedra line array system

Professional event services firm DHE Professional have invested in HK Audio's flagship Cohedra line array system to provide professional quality sound for a range of high profile events.
HK Audio
Used Line Array Speakers
Find used line array speakers and line array elements from such popular brands as L-Acoustics, d&b audiotechnik, Meyer Sound and Nexo. All used line array speakers are warrantied and in most cases inspected by factory certified technicians. Solaris sells and buys secondhand and used line arrays for large concerts, tours, stadiums and auditoriums. Call us if you don't find it and we will find it for you.