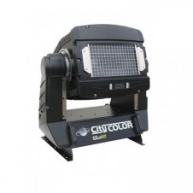 Available with 2500 and 1800 watt power, the fixture is a totally renewed. For the aesthetical appearance, more harmonious and rigorous thanks to new parts in aluminum and plastic molds, the use of a new asymmetric bracket has been employed which gives the Spotlight head more inclination. The new version is the result of a joint venture of Chinese company, allowing a consistent reduction in unit price.



Studio Due
Studio Due has been creating lighting systems for live performances, discotheques and television studios since 1982. Through constant research and innovation, and the use of premier-quality materials, Studio Due has established an international reputation as one of the market leaders in the field of professional lighting. In 1998 Studio Due has enlarged its range of products - moving head spots - outdoor multirays effects - controllers introducing a new line of - colour changer for architectural light - moving par concept specifically designed to satisfy the requirements of the architectural lighting; the most famous and world-wide appreciated among these products is the CityColor. Studio Due thanks to continuos investments is today able to produce inside the company most of the components needed in the final assembling of their products, that means manufacture high quality fixtures without loosing the flexibility in the production.
Used Outdoor Architectural Lighting
Outdoor architectural lighting is an integral architectural lighting concept which also follows the same principles characteristic of all well-conceived customized architectural building lighting: appearance, energy efficiency and a balance between the initial and operating costs. Being such, those who undertake projects for outdoor building lighting must take into consideration several factors vital to any other type of building lighting: the inherent psychology and physiology of human light perception and the physics of light production and transmission. In order to achieve its intended absolute effect, outdoor architectural lighting must sufficiently address vital lighting concerns such as the ratio of functional light to actual energy consumption (output versus intake) and also the actual artfulness that the lighting design registers onto human perception. The purpose of the outdoor lighting must also be taken into consideration. A case in point: regular office buildings and warehouses do not require aesthetically elaborate outdoor lighting, since such structures mostly have to follow their own guidelines on energy consumption and light distribution. But theaters, casinos, and even functional water towers can be made more interesting by creative outdoor architectural lighting installations. In order for such installations to be perpetually efficient and constantly aesthetic, several factors are to be taken into account, for instance, illumination decrease due to life duty of the lighting fixture, eventual burnout, and constant maintenance against deteriorating elements like dirt and weather components. In conclusion, outdoor architectural lighting is an essential component that should always uphold the principles of aesthetic provision to any structure while holding onto those of architectural lighting design.