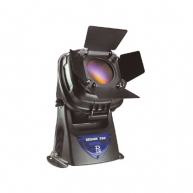 The Design 250 is a projector of innovative, compact, silent color changing, capable of extraordinary performances in terms of color mixing, reliability and versatility. The product complies to CE norms and standards and uses international protocol DMX 512. The Design 250 is particularly suitable for television studios and theaters, stage lighting, limelight's, backdrops, inside or outside shops and shopping centers, sport centers and almost all architectural applications. The Design 250 features 6 kinds of color filters for CYM colour mixing and 2 blades for shutter/Dimmer. The product has light level sensor track system, which can adjust the status of product automatically. And the projector can be setup easily via the touch-switches and LCD display. Comes with barndoor accessory
PR Lighting
Founded in 1984, at Guangzhou, China, PR Lighting Ltd. has been dedicated to R&D and manufacture of professional, intelligent stage lighting, architectural lighting and LED products. After its positive evolution during the past 20 years time, the company has now pioneered in China lighting industry, and earned a solid reputation for its own brand all over the world.
Used Outdoor Architectural Lighting
Outdoor architectural lighting is an integral architectural lighting concept which also follows the same principles characteristic of all well-conceived customized architectural building lighting: appearance, energy efficiency and a balance between the initial and operating costs. Being such, those who undertake projects for outdoor building lighting must take into consideration several factors vital to any other type of building lighting: the inherent psychology and physiology of human light perception and the physics of light production and transmission. In order to achieve its intended absolute effect, outdoor architectural lighting must sufficiently address vital lighting concerns such as the ratio of functional light to actual energy consumption (output versus intake) and also the actual artfulness that the lighting design registers onto human perception. The purpose of the outdoor lighting must also be taken into consideration. A case in point: regular office buildings and warehouses do not require aesthetically elaborate outdoor lighting, since such structures mostly have to follow their own guidelines on energy consumption and light distribution. But theaters, casinos, and even functional water towers can be made more interesting by creative outdoor architectural lighting installations. In order for such installations to be perpetually efficient and constantly aesthetic, several factors are to be taken into account, for instance, illumination decrease due to life duty of the lighting fixture, eventual burnout, and constant maintenance against deteriorating elements like dirt and weather components. In conclusion, outdoor architectural lighting is an essential component that should always uphold the principles of aesthetic provision to any structure while holding onto those of architectural lighting design.