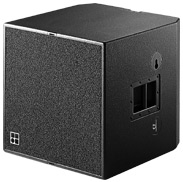 The C7-TOP is a two-way horn loaded loudspeaker that exhibits true constant directivity above a frequency of 600 Hz, ensuring equal sound within the coverage area. The bass-reflex design of the low end allows the C7-TOP to be used without a Subwoofer, and with its medium to high sound pressure levels and extended directivity it is ideal for balcony or stadium sound reinforcement, delay and background music playback. Where a more powerful PA system is required a C7-TOP can be stacked with two C7-SUBs. The C7-TOP cabinet is constructed from marine plywood, has an impact resistant paint finish, steel handles and MAN CF4 stud plate rigging points. The front of the loudspeaker cabinet is fitted with catches at the top and bottom for securing an optional transport lid, and mounted on the rear panel are ratchet strap guide plates, two hinge plates and four heavy duty wheels.
db audiotechnik
d&b audiotechnik has been developing, manufacturing and distributing loudspeaker systems since 1981. The company operates internationally in the field of electroacoustics to produce high quality products for reinforcement of speech and music. Through the amalgamation of technological developments, system integration principals, quality of construction and standards of service, d&b pursues a systems approach that includes all aspects of design, development, manufacture and support. d&b's loudspeakers are used globally in rental and installation markets for events, multimedia, musicals, concert halls, theatres, opera houses, broadcast and everything from the smallest conference room to the largest stadium.
Used Line Array Speakers
Find used line array speakers and line array elements from such popular brands as L-Acoustics, d&b audiotechnik, Meyer Sound and Nexo. All used line array speakers are warrantied and in most cases inspected by factory certified technicians. Solaris sells and buys secondhand and used line arrays for large concerts, tours, stadiums and auditoriums. Call us if you don't find it and we will find it for you.
C7 and B2 sub package - C7 set including B2 sub package. No dry hire. No rock and roll.
C7 SUB - Package of (4) C7 subs. Has not been used for the last (12) months.
C7 Sub - C7 in excellent condition.
C7 Tops and C7 Subs Package - Package of (2) C7 tops and (4) C7 subs. Comes with a 30 day warranty.
C7 - Turn Key C7 system with (6) C7 Tops, (8) C7 Subs with cases in good condition. Previously used in co...