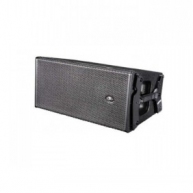 The Aero 12A compact line array system joins the Aero Series2 family of professional sound touring products. The system incorporates an impressive battery of high tech features that take compact line array systems to an unprecedented level of performance.

The two-way amplifier design of the Aero 12A sets a new industry benchmark in Audio Performance, efficiency and power density. The 600 W amplifier provides extended bandwidth, improved dynamic range and exceptionally low distortion. Impressively compact in size and light in weight, its high power density of over 20 W per cubic inch promotes an amplifier design that requires much less space, reducing the overall cabinet size and in turn, the total cabinet weight-an important attribute for flown systems. Signal processing is accomplished by way of a powerful 24 bit DSP providing unparalleled control over critical signal parameters. Digital Finite Impulse Response (FIR) filters are used in the signal processing of the Aero 12A.

The Aero 12A incorporates a D.A.S. 12LN4C, 12" low frequency transducer employing a 75 mm (3") voice coil and neodymium magnet motor assembly. High frequency reproduction relies on the exceptional characteristics of the new D.A.S. M-75N neodymium Compression Driver designed for use in applications where high SPL and low distortion are required. A pure titanium diaphragm featuring a 75 mm copper-clad, aluminium flat-wire voice coil yields high sensitivity, low distortion and extended frequency response.

The easily portable and rugged enclosure is manufactured using birch plywood and finished with a durable black paint. The captive rigging system splay angles range from 0 to 10 and can be adjusted in 0.5 increments from 0 to 3 and 1 increments from 3 to 10 allowing a wide range of column curvatures to be accomplished.
D.A.S. Audio
Today, we manufacture loudspeaker systems and components, which we supply to other manufacturers throughout the world. Power amplifiers, electronic signal processors, and accessories complete a vast array of products that address the gamut of sound reinforcement applications. Loudspeaker and system designs are developed by a staff of engineers aided by advanced computer assisted design programs. Performance testing is done with proprietary software such as Autopol, a platform for automated acquisition and processing of directivity data. A well planned industrial process, careful selection of suppliers, and the in-house production of loudspeaker components optimized for use in D.A.S. Audio sound systems empowers the company with quality levels and cost efficiency matched by only a few.
Used Line Array Speakers
Find used line array speakers and line array elements from such popular brands as L-Acoustics, d&b audiotechnik, Meyer Sound and Nexo. All used line array speakers are warrantied and in most cases inspected by factory certified technicians. Solaris sells and buys secondhand and used line arrays for large concerts, tours, stadiums and auditoriums. Call us if you don't find it and we will find it for you.
AERO12A - Self powered line array AERO system package.
AERO12A - Used in a club for 1.5 years. Demo system.
AERO12A Package - Package of (8) AERO12A in good condition, previously used for Touring.