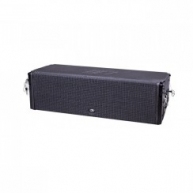 Powered two-way, mid-high line array module
-Two channel amplifier 350 W LF (Class D) + 100 W HF (Class AB)
-Two 8 loudspeakers with neodymium magnetic assemblies
-Neodymium Compression Driver with 1.5 exit
-SERPIS high frequency plane wave generator
-Captive rigging system integrated in the cabinet design

The CA-28A is a powered, bi-amplified, two-way compact line array module designed for use in multi-box arrays. The easily portable and rugged trapezoidal enclosure incorporates all the Rigging Hardware and fittings needed to join one box to another. The CA-28As trapezoidal shape and rear located splay angle adjusters keep the front spacing between adjacent Elements the same, providing the array with a seamless front baffle, for improved array performance.
D.A.S. Audio
Today, we manufacture loudspeaker systems and components, which we supply to other manufacturers throughout the world. Power amplifiers, electronic signal processors, and accessories complete a vast array of products that address the gamut of sound reinforcement applications. Loudspeaker and system designs are developed by a staff of engineers aided by advanced computer assisted design programs. Performance testing is done with proprietary software such as Autopol, a platform for automated acquisition and processing of directivity data. A well planned industrial process, careful selection of suppliers, and the in-house production of loudspeaker components optimized for use in D.A.S. Audio sound systems empowers the company with quality levels and cost efficiency matched by only a few.
Used Line Array Speakers
Find used line array speakers and line array elements from such popular brands as L-Acoustics, d&b audiotechnik, Meyer Sound and Nexo. All used line array speakers are warrantied and in most cases inspected by factory certified technicians. Solaris sells and buys secondhand and used line arrays for large concerts, tours, stadiums and auditoriums. Call us if you don't find it and we will find it for you.
Aero CA-28A - Package of (12) Aero CA-28A with subs in good condition. Previously used on rentals.