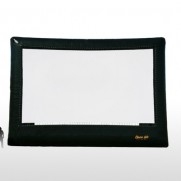 Open Air Cinemas Elite Series of inflatable movie screens bring the magic of the big screen to your local park, music or film festival, resort, or military base. These screens are for community leaders, event producers, and business people who are entertaining hundreds to thousands of people at a time. Boasting our most durable construction and engineering, your Elite Series screen will become an investment for your community that will last for years.


Puncture resistant, with a removable surface for cleaning, and rear projection capabilities so that you can setup your Cinebox console behind your screen, the Elite Series of screens is the highest quality product line we offer. Rear projection is highly beneficial when you cant setup your audio visual equipment in front of your screen such as with a poolside cinema event, or when you have a tight area for audience viewing or simply want to minimize clutter for a more professional looking production.


The screen is easy to install in any location. Simply secure the screen with the provided stakes and tethers, attach and turn on your air blower, and the screen will inflate in a matter of minutes. Our Elite inflatable movie screens come in the following widths; 20, 25, 30, and 40-feet.


Please keep in mind that this screen is just the surface youll be projecting your movie onto. If you dont already have audiovisual equipment including an outdoor projector and speaker/sound system, we can help with that too. To see our complete CineBox Pro outdoor movie systems, click here.
Open Air
About Us Open Air Cinema develops ground-breaking outdoor cinema products that entertain the masses, bring communities together, boost the morale of men and women who serve in the armed forces throughout the world, and provide engaging and entertaining experiences for families and friends across the globe. Our case is simple - no one knows the business of outdoor movies like we do - period. We are world leaders in the rapidly growing outdoor cinema industry. Commitment to Quality Our inflatable screens are American-made so we can keep a close eye on the manufacturing process. This results in products that are strong, easy to use and very durable.
Used Video Panels
Video panels are used in concerts in order to create a large video wall for displaying visual effects and close-up shots of the performers during the concert. A video wall panel, also called a visual display panel or video tile, can be made from various different technologies, such as LCD panels, LED panel, rear projection screens and DLP tiles. LED video panel technology is one of the most favored types in video panels, as it is cheap to use, doesn'??t overheat and provides an exceptionally sharp, clear image on the screen. Video panels are preferred to a single, extra large video screen for a number of reasons, not least because of the cost involved in creating an extra large video screen. Video panels can be disassembled, making them easier to transport, and they can also be customized '?? for example you can have an outdoor video panel or an indoor video panel, and by using individual panels the pixel density is usually much greater. One notable feature of video panels is that the '??bezels'?Ě, the plastic surround that lines the edge of the video tile, is especially narrow. These are kept as narrow as possible on video panels so that the image on the finished video wall is not impacted noticeably by separating lines. Although it would actually be feasible to use multiple television sets or computer monitors to make a video wall, specially designed video panels are the preferred option, as they feature the necessary hardware to allow for smooth integration of all the video tiles used. This makes video panels easy to connect together with regards to power source and commands between the different screens, so their brightness and contrast can be easily calibrated.