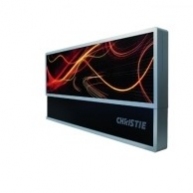 Using the strengths of both DLP projection and Light Emitting Diode (LED) technology, Christie MicroTiles offer substantially brighter images and a much wider color palette than conventional flat panel LCD and plasma displays. With no practical limit to the number of tiles in a display, Christie MicroTiles produce a virtually seamless canvas with an unlimited number of super-fine pixels. The tiles modular, flexible design means they blend into any environment.
Christie Digital
Christie a global visual technologies company, offers diverse solutions for business, entertainment, and industry. With expertise in film projection since 1929 and professional projection systems since 1979, we've established a reputation as the worlds single source manufacturer of a variety of display technologies and solutions for cinema, large audience environments, control rooms, business presentations, training facilities, 3D and virtual reality, simulation, education, media and government. As a market leader, Christie has installed over 100,000 projection solutions worldwide. Christie technologies Christies broad range of technologies include DLP Cinema projectors, LCD and DLP projectors, rear screen projection modules, video walls, and cutting edge projection technologies for 3D, virtual reality and simulation. Whatever the application, our solutions are purpose-built to meet unique projection requirements, and are backed by industry-leading service and support ensuring complete customer satisfaction. Global organizations use Christie's visual solutions Many of the worlds most demanding organizations rely on Christie for their display solutions, including AMC Theaters, AT&T Global Network Operations Center, Boeing, Buckhead Community Church (Atlanta, Georgia), Carlton Screen Advertising (UK), Cinemark, China Film Group, Dallas Police, Connecticut Light & Power, Deluxe, Deutsche Telekom, First Baptist Church of Orlando, Georgetown University, General Motors, Harrods', Industrial Light & Magic, Italian Army, Italian Railways, Japans National Institute for Fusion Science, Microsoft, Loews, Montreal Police, Paramount Parks Star Trek Borg Invasion 4D, Pixar Animation Studios, Regal CineMedia Corp., Scripps Network, Shell, Shenzhen Telecom, Sinopec (China), Sony Picture Studios, Starbucks, Taiwan Air Force, Toronto Stock Exchange (TSX), Tulane Universitys A.B. Freeman School of Business, University of Illinois, Urbana and Wharton School of Business.
Used Video Panels
Video panels are used in concerts in order to create a large video wall for displaying visual effects and close-up shots of the performers during the concert. A video wall panel, also called a visual display panel or video tile, can be made from various different technologies, such as LCD panels, LED panel, rear projection screens and DLP tiles. LED video panel technology is one of the most favored types in video panels, as it is cheap to use, doesnâ??t overheat and provides an exceptionally sharp, clear image on the screen. Video panels are preferred to a single, extra large video screen for a number of reasons, not least because of the cost involved in creating an extra large video screen. Video panels can be disassembled, making them easier to transport, and they can also be customized â?? for example you can have an outdoor video panel or an indoor video panel, and by using individual panels the pixel density is usually much greater. One notable feature of video panels is that the â??bezelsâ?ť, the plastic surround that lines the edge of the video tile, is especially narrow. These are kept as narrow as possible on video panels so that the image on the finished video wall is not impacted noticeably by separating lines. Although it would actually be feasible to use multiple television sets or computer monitors to make a video wall, specially designed video panels are the preferred option, as they feature the necessary hardware to allow for smooth integration of all the video tiles used. This makes video panels easy to connect together with regards to power source and commands between the different screens, so their brightness and contrast can be easily calibrated.