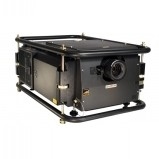 Digital Projection International (DPI), Texas Instruments first DLP partner and the original innovator of the 3-chip DLP projector, proudly introduces the LIGHTNING 38 sx+ 3D. When considered along with their 20,000 ANSI lumen brightness and contrast performance up to 1800:1, the LIGHTNING 38 1080p 3D model is the perfect imaging solutions for the most demanding large screen immersive applications, including: military simulation, scientific visualization, medical, chemical and geological research, product engineering, commercial cinema and theme park attractions.

In addition to the active 3D capability, the LIGHTNING 3D models also include DPs new FastFrame technology, a revolutionary combination of hardware and firmware that vastly reduces the artifacts and image blur typically associated with rapidly moving displayed content. The benefits of FastFrame are especially important for simulation environments such as commercial and military flight training, and other applications where maintaining the visual integrity of high-speed imagery is vital.

The LIGHTNING 38 1080p 3D projectors also incorporate DPIs Hyper-Cooled lamp module, one of our CoolTek innovations. Engineered with a proprietary, directional-flow reflector mask and Radial heat exchanger, the Hyper-Cooled module dramatically improves projector thermal characteristics and extends reflector life and lumen maintenance. In turn, these operating benefits provide a significant reduction to the long-term cost of ownership, while also enhancing component reliability.

LIGHTNING 38 1080p 3D Pro Series II projectors - ultra-powerful display systems for major 3D events and Immersive large screen applications - bringing the precision of Digital Projection to every Venue.
Digital Projection
A digital imaging pioneer and industry leader, Digital Projection International (DPI) manufactures and distributes an extensive and expanding line of ultra high-performance 3-chip and single-chip DLP¬ģ projection systems. These projectors are the reference standard for demanding applications such as large-venue, live-event staging, Fortune 5000, homeland security, education, medical and scientific research, command and control, digital cinema, commercial entertainment, worship and elite home cinema.
Used Video Projectors
Video projectors such as a digital video projector or an LCD projector are an alternative to regular video screens in that they project images directly onto a screen, rather than projecting the video from behind as a television or monitor does. Video projectors use a lens system and project an extremely bright beam of light onto a screen. Modern video projectors such as a 3 chip DLP projector have are extremely intricate and able to correct inconsistencies in the image such as blurriness and curvature. Video projectors are commonly used in concerts and theatres, and they have many other applications in educational and business settings. They can also be used as part of a home theater system. There are a vast range of different video projectors available. The old CRT projectors are surprisingly still quite widely used, as they are able to project a very large image size, although the bulkiness of the cabinet is not so popular. For professional use in theatres and concerts, the DLP projector is one of the preferred models. DLP video projectors use 1, 2 or 3 Digital Micromirror Devices, called DMDs, which are essentially microfabricated light valves. The 1 chip DLP projector and the 2 chip DLP projector have been known to experience a problem however '?? viewers can sometimes perceive a '??rainbow'?Ě on the projection screen, and so the 3 chip DLP projector is more popular, as this is able to display each primary color in a simultaneous fashion, so the problem doesn'??t occur. The LCD flat panel model is perhaps one of the most popular video projectors for home and business use, as it is both affordable and simple to use. Other video projectors include the LCoS projector, LED projectors, Laser Diode projectors and hybrid LED/Laser Diode projectors.