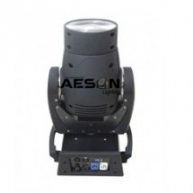 Power Supply: 90-260 VAC 50/60Hz
Power Consumption: 240W
Light Source: 90W white Cree LED
Color wheel: 1 color wheel with 5 dichroic colors + white
Color Effect: Variable direction rainbow effect with speed adjustment
Gobo Wheel: 1 Static gobo wheel with 7 fixed Gobos + open
Dimmer: 0-100% linear Dimmer
Strobe: 1-18 times/sec high speed electronic strobe
Beam Angle: 40 Prism: 1 rotating 5-facet prism w/speed adjustable and variable direction
Frost: With frost function with frost speed adjustment
Head movement: Pan 540/630, Tilt 270 (16-bit), Auto Pan/Tilt position
correction, speed adjustable, scan position memory, auto reposition after
unexpected movement
Control System: DMX512, master-slave, sound activated, auto operation
Channels: 12 DMX channels
Other Function: LED shutter with variable speed
DMX: 3-pin DMX connectors
Size: 7.99 x 11.81 x 17.20 inches
Weight: 23.15 Lbs.
Aeson Technology
Aeson Event Technologies was founded in 2011 as a result of a need we perceived to exist in the lighting and LED video display markets.The lighting market was dominated by a handful of companies and we felt there was an opening for a company that was much more responsive to customer needs.The domestic LED video market was also dominated by a small number of companies whose high price points gave us an opportunity to offer extremely well made product at much more reasonable prices.Aerial Rigging, the parent company of Aeson Event Technologies was founded in 1987. Aerial Rigging is one of the leading providers of rigging services in the United States, catering primarily to the entertainment and hospitality industries. Aerial Rigging is a member of PLASA and a recognized ETCP employer.Aeson Event Technologies is based in Lakeland, Florida, just west of Orlando and we have a distribution center in Las Vegas, Nevada.Aeson Event Technologies is dedicated to providing our customers with exceptionally responsive service. We are committed to offering the market, quality products, at reasonable prices. We fully understand that a sense of urgency must drive our customer service. When necessary we will overnight you replacement parts and then determine how the issue impacts the warranty.
Used LED Lighting
LED lighting is a specialized kind of stage lighting which is highly valued by technicians due to its high light output and low power consumption. Used as an alternative to traditional stage lighting such as halogen lamps, LED stage lighting is a more than capable alternative for just about any kind of application, although it is primarily used for lighting cycloramas, and for side, back and top lighting. In addition to these uses, LED lighting can be used to â??blind the audienceâ?, a nice special effect which involves briefly exposing the audience to a direct light beam from the LED stage lighting at crucial moments of the concert or show. LED wash lights are also great for applying a technique known as â??wall washingâ?, thanks to the high intensity of their light beam. LED wash lights can provide the full spectrum of light colors, despite usually only being fitted with green, blue and red LEDs. The operator simply needs to adjust the intensity of the various colored beams of light, manipulating them to achieve the desired color spectrum. LED lighting is provided by three pieces of equipment. The most common are LED Pars, which imitate traditional stage lights and have a number of LEDs mounted onto them. Striplights, which are basically a long length of LED wash lights, are also very common, while the versatility of moving LED lights is also becoming an increasingly preferred option for many stage lighting technicians. Besides its higher light output and lower power consumption, LED lighting has a number of other advantages. One is that they have an exceptionally high heat tolerance, which means they can be used almost anywhere without worrying about them becoming damaged due to overheating. Another advantage of LED lighting is that it has a much longer shelf life than traditional lighting.