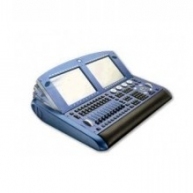 Database Error
Message:
MySQL Query fail: select REGISTERED_MODEL, ID_REG_MODEL, registered_manufacturers.REGISTERED_MANUFACTURER FROM registered_models LEFT JOIN registered_manufacturers ON ( registered_manufacturers.ID_REG_MANUF = registered_models.ID_REG_MANUF ) where REGISTERED_MODEL REGEXP '[[:alnum:]]+' && SEO_EXCLUDE_KEYWORD != 1 && LENGTH(REGISTERED_MODEL) >= 5 order by rand()
MySQL Error:
Error writing file '/var/tmp/MYpGXOtz' (Errcode: 28 - No space left on device)
Date:
Friday, November 24, 2017 at 10:59:37 PM
Script:
/used/wholehog-iii/46325
The Wholehog 3 represents the contemporary evolution of a world-renowned lighting console legacy. It has a refined and sophisticated presence that's unmistakable: the unique silhouette, precision-machined aluminum and sleek blue anodized finish. Sophisticated engineering and well established control surfaces ensure a creative programming experience. With the perfect blend of style and function, the Wholehog 3 console
Stands
at the top of the Wholehog line as a
Leader
for all types of productions.
For supreme scalability, the console provides two monitor outputs, keyboard and mouse ports, MIDI input and output ports, two USB ports, Fast Ethernet on a rugged Neutrik Ethercon connector, and speakers with stereo audio output. You're prepared for everything from the smallest industrial job to the largest stadium show, theme park installation or Broadway spectacular.
Preserve show data on a built-in shock-mounted hard disk with CD-ROM drive and Zip disk drive neatly tucked away under the armrest.
Features
Robust Wholehog Operating Software
Unlimited number of simultaneous crossfades
Two internal 12-inch high-brightness color touchscreens
Two external
Monitors
or touchscreens supported
Backlit trackball with four configurable buttons for cursor and position control
Ten playback faders with familiar playback controls
(Choose, Go, Pause, & Flash)
Dedicated Intensity and Rate wheels
36 Soft-Keys for quick toolbar selections
Hog-Net Ethercon connector
Internal Hard disk drive
Internal CDRW drive
Internal ZIP drive
USB ports for Wholehog wings and external touchscreens
Real time clock
Desklights, feedback LEDs, and integrated worklight all dimmable
Auto-ranging mains input (90-250VAC)
Visualizer Console Edition dongles included
Dust cover included
Custom Road Case included
Connectivity
Unlimited number of DMX channels via Ethernet DPs
MIDI Input and Output, MIDI Show Control and MIDI Time Code
Single LTC input via USB Timecode Widget
Connectivity with many visualizers via Ethernet
Wired and wireless networking ability with multiple Wholehog console systems
Remote Focus capabilities when networked with a tablet PC running Hog 3PC software
Supports USB Playback and Expansion Wings