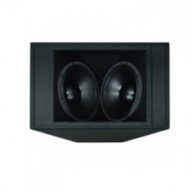 Duplicating the low frequency performance of the VQ 60 & VQ 100 full range loudspeakers, the VQ MB is intended for use as a flown or ground stacked, high power low/mid frequency module used in conjunction with full range or mid/high systems in the VQ series, offering improved LF pattern control possibilities. Two (12) low frequency transducers, offer high power handling and low power compression for high continuous SPL capability. A newly designed LF loading design provides the highest possible sensitivity for low/mid Read More
Features

Designed to extend the pattern control of VQ full range systems
Identical performance to low/mid section of VQ full range systems
Compact Dimensions - same form factor as VQ MH cabinets
Multiple devices can be arrayed for improved LF pattern control
Extremely high sensitivity, therefore high SPLs can be achieved with a very modest amount of amplifier power
Link hardware supplied

Applications

Corporate AV
Houses Of Worship
Live Music / Performance Venues
Night Club
Performing Arts Spaces
Portable PA
Sports Arenas / Stadia
Theme Parks
Auditoria / Lecture Theatres
Tannoy
As one of the longest established audio companies in the world, having been in 'the business' for more than 75 years Tannoy's expertise in sound reproduction is world-renowned. Tannoy has a comprehensive range of products suitable for all aspects of the install business. Our vast loudspeaker and amplifier portfolio caters for anything from pubs, clubs, corporate boardrooms, retail and leisure venues, public buildings, places of worship, through to large theatre usage and professional recording studios. Tannoy's prestigious client list confirms our commitment to effective, reliable and efficient solutions wherever there is a requirement for exceptional and intelligible sound reproduction.
Used Cabinet Speakers
Find used speakers and used speaker cabinets from popular brands as JBL, Turbosound, EAW and more. All used speakers we carry are warrantied and in most cases inspected by factory certified technicians. Solaris sells and buys secondhand and used speaker cabinets for use in churches, clubs, theaters and other large events and shows. Call us if you don't find it and we will find it for you.