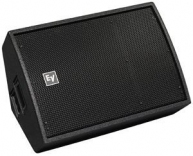 X-Array? speaker systems provide world-class performance and flexibility for the ultimate in concert touring systems. It incorporates unique "one-man" rigging and neodymium magnets for very large arrays.

The X-Array? X-Series? represents important advancements in concert-sound reinforcement technology. Design goals called for the highest acoustic output capability with the highest fidelity in relatively lightweight, compact enclosures that were easy to array. the individual systems, drivers, horns, enclosures, Rigging Hardware and system configurations were designed from the ground up specifically for this high-performance application. For easier handling, special speaker dollies are available.

Two-way 15-inch floor monitor Now with Electro-Voice ND6 3" Titanium HF Compression Driver with Neodymium Motor New recessed handles for easy and smooth carrying The unique characteristics of the Xw12 plus EVX-155 woofer for increased bass output and lower distortion
Electro-Voice
Electro-Voice Prominent maker of microphones; also loudspeaker systems, amplifiers.
Used Monitors
Find used speaker monitors and stage monitors from popular brands as L-Acoustics, Turbosound, EAW and Meyer Sound. All used speakers we carry are warrantied and in most cases inspected by factory certified technicians. Solaris sells and buys secondhand and used stage monitors and monitors for use in churches, clubs, theaters and other large events and shows. Call us if you don't find it and we will find it for you.
Xw15A - Like new condition. Still in the box. Never been used.