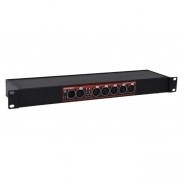 The XSR and XSP series of RDM hubs and DMX Splitter/boosters, from
SWISSON can be easily and economically integrated into any lighting system
where you wish to spilt and boost DMX and RDM signals.
While the XSP spiltts and boost only DMX signals, the XSR also detect RDM
Data and use its bidirectional functionality to report back to the Controller
(Lighting Board).
All output ports on both XSP and XSR are optically isolated. A Strong power
supply allows a reliable operation in a wide voltage range. A large program of
XSR and XSP devices is available; consisting of different housings, different
connector types and different numbers of input and output ports.
Swisson of America
SWISSON is a world wide registered trademark. SWISSON develops and produces lighting control tools, DMX-512 measurement tools and DMX-512 recording devices. We try our very best to work closely with our customers to develop new technologies that best meet their specific and exact needs. SWISSON is working to become a competitive force in the WORLD WIDE lighting market. SWISSON is reaching this goal be constantly researching and developing new technology for their products. SWISSON's technologies team is working in conjunction with engineering professors at some of the world's top universities.
Used Lighting Processors and Networking
Find used lighting console networking and processors in well maintained condition from such popular brands as MA Lighting, High End Systems, Avolites, Jands and Martin Professional. All used lighting consoles come with warranty and many have been certified by factory technicians. Solaris sells and buys secondhand and used lighting console networking and processors for touring production, churches, theaters, film, television and more. Call us if you don't find it and we will find it for you.