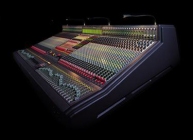 If you're looking for a dedicated monitor console, XL250 is the answer. The perfect partner to a Front of House Heritage, XL250 offers users a simple, fast and responsive control surface, the layout and operation of which can be grasped in seconds. This is monitoring made easy.

The XL250 can be re-configured in moments for either in ear monitoring, wedge monitoring or combinations of both.

All this is achieved with no compromise to the control functions or layout through use of configurable busses and the controls that feed them.

If you need a stereo buss, switch the stereo button between two groups and they are now working in stereo with all inputs routed via level and pan controls.

If you want mono busses switch the stereo button off and the two groups are independent and fed from separate level controls on the input channels.

The console also has the Classic transparent "Midas Sound". Switch changes are silent, the noise floor is way down and the headroom is high due to the consistent internal gain structure.
Midas
Midas has been designing and manufacturing live performance mixing consoles for the worldâ??s most demanding sound engineers, performers and production rental companies since the early 1970s. The evolution of Midas consoles throughout the 30-year history of this classic marque has always paralleled, and often led, increasingly sophisticated audio innovations for the world-wide entertainment technology industry. Raising the standards of sonic quality through continual research and development has always been - and still remains - our overall aim. Equally important to us is the design and implementation of many new areas of control functionality and user-friendly desk operation to anticipate and accommodate the rapidly changing and expanding needs of audio professionals who specify Midas consoles for their major tours, festivals, international events, broadcast projects and prestigious fixed installations. The Midas design pedigree has, since our birth, been founded upon a track record of achieving a unique symbiosis with working sound engineers around the planet - engineers who respect and endorse our proven technology in the light of their responsibilities to their internationally-based clients who are themselves the leading lights of our industry.
Used Analog Mixing Consoles
XL4 - FACTORY WARRANTY - LIKE NEW
XL4 - 48 channel console in Flight Case.
XL4 - Used on corporate events. Comes with a 127 warranty.
XL4 - 1 console available! In very good condition. No touring history...
XL4 - Midas XL4-48 Analog Mixing Console
XL4 - Clean Unit-Install - Available in June
XL4 - 48 Channel Tour Package - (From Install)
XL4 - w/Case and (2)-PSUs, cover and tour package.
XL4 - 48 stereo. Used in an installation.
XL4 - This XL4 is a Tour Pack and Come with (2) Power Supplies.
XL4 - In a Good Environment its Entire Life. From Fall 2000.