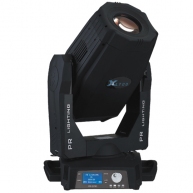 XL 700 uses a 700wts short arc discharge lamp enhanced by its high quality and super efficient optical system. Major features include: large-scale linear zoom, CYM color mixing, one rotating gobo wheel plus one fixed gobo wheel, bi-directionally rotating indexable prisms, one frost and one color correction filter, focus and Dimmer, iris and much more. The XL 700 also features ultra-quiet and smooth operation with advanced control technology, an energy saving design, LCD menu, sensor system for fault diagnosis, display setup without main power, isolating protection when ground is not connected, modularized construction.
PR Lighting
Founded in 1984, at Guangzhou, China, PR Lighting Ltd. has been dedicated to R&D and manufacture of professional, intelligent stage lighting, architectural lighting and LED products. After its positive evolution during the past 20 years time, the company has now pioneered in China lighting industry, and earned a solid reputation for its own brand all over the world.
Used Moving Lights
Moving lights, or intelligent lighting as they are sometimes called, are basically a type of stage lighting that is able to move due to its integrated mechanical elements, which go beyond the moving parts that are found in more traditional, non-moving lighting. Automated lighting such as moving lights is highly valued by stage lighting technicians as through them, it is possible to create highly complex special effects that simply cannot be made using standard, non-moveable lights. It should be noted however, that when it comes to intelligent lighting, the real intelligence lies with the programmer of the show, rather than the lighting equipment or any operator. Moving head lights, also called moving head luminaires, are highly versatile lighting instruments capable of performing multiple lighting functions at once. They have largely superseded the use of multiple non-moving lights to create special effects, which required many lights and a large amount of skill on behalf of the operators. Moving lights are hooked up to a lighting control console and send data to it in one of three ways '?? through an Ethernet control (a relatively new technology), analogue control (now almost obsolete), or DMX, (which is now the industry standard). So long as they have been properly programmed, the optics of wiggly lights can be altered in many ways, allowing for the '??personality'?Ě of the lights to be adapted almost instantaneously, depending on the requirements of the operator. Typically, moving lights will be pre-programmed before a production and controlled using simple commands, although some more experience operators may prefer to control them '??live'?Ě, if they have the experience to do so.
XL 700 - PR Lighting XL700. Factory demo unit.