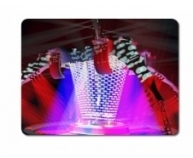 wysiwyg previsualizations and renders are really virtually real! What you see in your renders or on screen is exactly what you can get on the set, in the Venue or on the exterior of the building. Why is this so important? Because your professionalism depends on it!



You need to know that you can deliver the results as portrayed for the project - and that's the solution wysiwyg delivers. With new wysiwyg you get both the pretty picture and the confidence you can deliver it - a win-win. No more working off a pretty picture that was created without industry technology and therefore cannot possibly deliver the results as promised. With a proprietary library of over 20,000 lights, Gobos, and trusses we simply don't need to cheat it!
CAST Lighting
Cast Lighting, a division of the Cast Group, provides professional lighting design, consulting and specifying services, including previsualizing and realizing productions with the powerful WYSIWYG suite of software products. Cast's service offering addresses a broad spectrum of needs: * theatre, stage, and studio design and layout * architectural lighting design * retail display lighting and presentation systems * lighting for sports * other extravaganza, exhibition and trade show lighting Cast delivers its services through expert staff with many years of senior-level experience in the lighting industry.
Used PC Lighting Software
PC software is at the heart of a computer-based lighting controller. It comes with numerous features and functions that are installed into the hardware-based console. The benefit of a computer-based approach to lighting control is that the system can be built to fit or meet the specific demands of the operator or lighting designer, simply by adding more DMX outputs or additional console style panels. To use a DMX lighting software or PC software, for example, DMX-512 ports and fader or sub-master panels can be added to be able to control dimmers, automated fixtures and other standard lighting devices which do not usually have current standard computer interfaces. The panels are connected to the computer via a USB port. Manufacturers or vendors of lighting control consoles often provide a PC software version of their consoles, but the software is programmed to work specifically with their own control panels or hardware DMX interface. Another option is downloading open source lighting designer software and buying a less expensive DMX PC interface. PC software for highly specialized applications is also available. Aside from stage lighting software or show control software which is designed to control or manage stage or show lighting, stage virtualization software is also available for simulating and approximating lighting on stage for better programming and control of theatrical lighting.
WYSIWYG R 26 - Used on various rentals but in perfect working order.