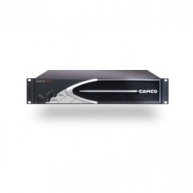 Precision, pure natural sonic performance and total power define the Vortex series. The difference; total care about audio design and integrity.

Pure Sonic Performance
Total precision and transparency is the trademark of the Vortex series, thanks to its careful design eliminating sound-deteriorating drawbacks right from the start. This is also evident in the Vortex Series exceptional low distortion values and excellent signal to noise ratio.

Flexible in Power & Application
The Vortex amplifier can easily switch between applications and speaker setups due to its unique power regime. This consists of an extensive power reservoir, stability down to 1 Ohm loads and the ability to run in Stereo, Bridge Mono and Parallel Mono operation modes.

Designed for Touring & More
With a weight of just 12,4 kg and designed for the demands of touring professionals the 2 RU chassis ensures exceptional reliability. All dynamic protection circuits are the result of the philosophy, ??Audio-at-all times.
Camco
CAMCO is a manufacturer of high-end pro audio amplifiers, DSP- and audio network solutions, which have gained a worldwide reputation for transparent sonic performance, extreme power and ultra reliability
Used Amp Rack Units
Find used audio amps and amplifiers by top manufacturers such as Lab Gruppen, Crown, Crest, Powersoft and more. All products come with warranties and are tested before shipping to you. Solaris sells and buys secondhand and used amplifiers for installations, concerts, churches, events and all types of entertainment production. If you do not find what you are looking for give us a call and we will quickly find it for you.