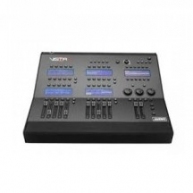 Vista I3 Console
Jands Vista I3 Lighting Console

Designed to cope with the ever changing demands of modern shows, the award winning Jands Vista family makes today's mix of lighting, LED and media server technology both fast and unbelievably simple to use.

At the heart of the system lies the Vista's incredibly intuitive visual interface. Shared throughout the whole family, this gives you the flexibility to move freely between the wide range of hardware options as the needs and constraints of your shows dictate.

Continuing the Jands tradition of offering superb quality at an affordable price, the Vista I3 is a compact, portable console with the "brains" built in. With the flexibility of deciding for yourself which channel dongle you need, and the freedom to upgrade as and when you choose, the Vista I3 offers a self contained, Linux based console that gives the option of using a touchscreen, Wacom tablet, or screen, mouse, and keyboard as you prefer.

Upgradable, flexible, and unbelievably easy to use, try the Jands Vista for free today by downloading the Vista app at www.jandsvista.com.
Jands
Jands have been designing, building and operating lighting equipment since we made our first dimmer in 1970. Since then, our products have become a standard feature of lighting rigs the world over. Whatever country you'??re in, ask an industry professional about Jands products and you'??ll get the same response: '??reliable, good value, solid and dependable, go-anywhere do-anything, noise-free, just better.'?? But we don'??t just offer our own lighting equipment, we'??ve also identified the best products available from other manufacturers. This is why we can give you the best possible lighting solution, including ETC and Varilite products.
Used Lighting Consoles
Find used lighting consoles and lighting desks in well maintained condition from such popular brands as MA Lighting, High End Systems, Avolites, Jands and Martin Professional. All used lighting consoles come with warranty and many have been certified by factory technicians. Solaris sells and buys secondhand and used lighting consoles desks for touring production, churches, theaters, film, television and more. If you do not find what you are looking for give us a call.
I3 - Vista l3 in great condition.