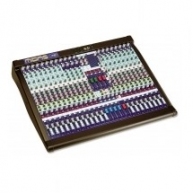 Venice is Midas' first truly compact console, built in direct response to customer demand. It does exactly what was asked, in that it provides a high quality alternative in a huge number of applications where previously Midas was not an option. These range from smaller conference or live band applications, to effects returns or additional inputs in a large multi-console application, or indeed as part of a small complete mobile system. It also provides the perfect feature set for live acts that need to mix their own FOH and monitor sound from on stage and is compact and light enough to fit on even the most cramped performance area.

As usual, Midas has paid attention to the details that set their consoles apart, taking care to provide high quality mic preamps and a stable, responsive EQ section, just as Midas do on the larger consoles. The simple but intuitive outputs make the overall configuration of the console extremely quick and easy to use.
Midas
Midas has been designing and manufacturing live performance mixing consoles for the worldâ??s most demanding sound engineers, performers and production rental companies since the early 1970s. The evolution of Midas consoles throughout the 30-year history of this classic marque has always paralleled, and often led, increasingly sophisticated audio innovations for the world-wide entertainment technology industry. Raising the standards of sonic quality through continual research and development has always been - and still remains - our overall aim. Equally important to us is the design and implementation of many new areas of control functionality and user-friendly desk operation to anticipate and accommodate the rapidly changing and expanding needs of audio professionals who specify Midas consoles for their major tours, festivals, international events, broadcast projects and prestigious fixed installations. The Midas design pedigree has, since our birth, been founded upon a track record of achieving a unique symbiosis with working sound engineers around the planet - engineers who respect and endorse our proven technology in the light of their responsibilities to their internationally-based clients who are themselves the leading lights of our industry.
Used Analog Mixing Consoles
Venice 320 - Used on corporate events.
Venice 320 - Venice 320 in excellent condition.
Venice 320 - Vencie 320 in great condition.
Venice 320 - Venice 320 in great condition.
Venice 320 - From installation. Call for more information on this listing.
Venice 320 - Normal wear. Will be tested before shipping.
Venice 320 - Corporate used Venice 320 in excellent condition.
Venice 320 - Venice 320 in good condition.
Venice 320 - Used as a demo unit.
Venice 320 - Complete Midas Venice 320 package. (24 Mono, 4 Stereo, 6 Aux)
Venice 320 - Midas Venice 320 in great shape. Very light corporate use.
Venice 320 - Used on corporate events.
Venice 320 - 24 mono + 4 stereo. In full working order.
Venice 320 - In like new condition. Call for more information on this listing.
Venice 320 - Used on corproate events. 32 channel board. Comes with a 3 day warranty.
Venice 320 - Midas Venice 320