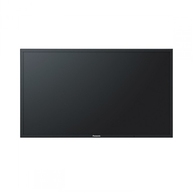 The Panasonic TH70LF50U 70" Full-HD LED Professional Display features a 5000:1 contrast ratio and offers good picture quality and eye-catching visibility in applications from digital signage to boardroom display. This 80 (203.2 cm) display has a brightness of 700cd/m2. At 3.5" (89mm) deep and 107.8 lb (48.89 kg) combined with portrait and landscape mode operation, the display offers good installation flexibility, including ceiling suspension.

The LED display offers a full suite of professional features including 24/7 operation, RS-232C control, Slot 2.0 expandability, and LAN control compatibility. In addition, it can be used in range of applications thanks to the VESA standard 400 x 400 compatibility and 5 x 5 Video Wall support. This display is also eco friendly thanks to its energy efficient LED backlighting system and the ECO mode energy saving feature.
Panasonic
Used TV Screens
TV Screens are used in the theater industry and in other venues for many different purposes '?? backstage or in the control room so that other actors/technicians/producers can keep up to date with the progress of the production, or at strategic locations so that the audience which is too far away from the actual stage can see the action close up. TV screens have come a long way since the days of the old analog TVs that first appeared in our homes in the middle of the last century. Those old, box-shaped, black and white screens have been superseded by highly advanced technology, and now we have TV screens that use OLED, LCD, DLP or Plasma technology, allowing viewers to see excellent quality, enhanced HDTV. Generally, for professional purposes in concerts, theater etc., TV screens are used in much the same way as a computer monitor. They are not used to tune in to current TV shows but are instead hooked up to a camera so that they can replay the action on stage as it happens, or '??Live'?Ě. OLED technology is one of the preferred technologies for TV screens these days, as they are extremely lightweight and provide good viewing angles when compared to other screens, where the image '??fades'?? if the screen is not viewed head-on. However, OLED TV screens are currently quite expensive when compared to other technologies such as LCD and Plasma, especially so in the case of CRT TV screens.