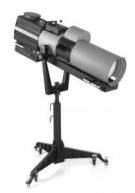 The Lycian Super Star 1.2 Model 1275 is a versatile HMI Spotlight where throws of 100'-450' are an absolute necessity.The Super Star 1.2 is easily movable and offers maximum intensity and efficiency making this Lycian unit the most universal to date. Horizontal trim shutters, heavy duty nichrome steel Iris. The Super Star 1.2 Model 1275 draws 15 amps at 120 VAC, 60 Hz.
Lycian
Lycian Stage Lighting Manufacturer of Quartz, HMI, and Xenon follow spots
Used Follow Spots
Find used follow spots in well maintained condition from such popular brands as Altman, Strong, Lycian, Strand and James Thomas Engineering. All products come with warranties and are tested before shipping to you. Solaris sells and buys secondhand and used follow spots for film, TV, auditoriums, concerts and theaters. If you do not find what you are looking for give us a call and we will quickly find it for you.
SuperStar 1275 - Was used on Various Rentals but Maintained By a Certified Technician.