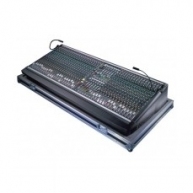 The SM24 has been designed in consultation with top engineers to provide the
ultimate tool for onstage monitor mixing.
The key features of the SM24 are:
A total of 26 busses reconfigure to provide almost any combination of mono
and stereo mixes
Dedicated stereo send, for sidefills or main mix output in FOH applications
4 band parametric EQ plus variable High-Pass filter on all input channels
Logic controlled solo system with autocancel, input priority and solo clear
functions
Full audio and logic console linking
VCA and Mute Masters offer a total of 16 mute groups
All inputs and outputs fully balanced
Channel Inserts and Direct Outputs are Ground Compensated as standard
Frame Sizes
The SM24 is available in 3 compact frame sizes:
32 channel
40 channel
48 channel
Power Supplies
All frame sizes use the CPS1000 PSU. Connection to the console is via an 8-way
and a 16-way SRC connector. The SRC panel also carries a ground binding post.
Lamps
Three BNC connectors for lamps are fitted to all frame sizes - one on the master
module, and one at either end of the console on the infill panels. The are suitable
for Littlite or similar 12V lamps taking up to 330mA each. The voltage supply to
the lamps can be varied between 1.5V (dim) and 12V (bright) by the Dimmer control.
The console features rear COMMS LINK connectors to allow a Clearcom system
to be looped through. When a 'call' button is pressed on the Clearcom unit, the
lamps are flashed to signal the engineer.
Soundcraft
Founded in 1973, Soundcraft first made its mark with the launch of the Series 1, the first mixing console in a flightcase. Back in the early 70's, the music touring business was just beginning - and the transportable mixing desk quickly became popular among the bands and the new PA companies that were springing up to rent out sound equipment. From what was then a small company in central London, Soundcraft expanded and started to diversify. The company designed a mixer for recording - the Series 2 - and began to build a reputation for great-sounding desks, which is often referred to as the favoured 'British Sound'. Design and innovation has always been one of Soundcraft's major strengths. Over the years it has introduced a number of industry-favoured consoles such as the Series 4, 2400, TS24, 8000, 200B, 6000, Delta, SAC200 and the Spirit Folio range, and more recently the Series FIVE, FIVE Monitor and Broadway. Today Soundcraft has a network of 88 distributors selling and supporting its products world-wide. Part of the Harman Pro Group, Soundcraft is still very much the dedicated professional mixing console designer and manufacturer it was back in 1973. It now boasts a range of mixers which are designed for use in live sound, recording, post-production, TV and radio production and disco applications. Harman is an international company which comprises a group of dedicated manufacturers of audio equipment spanning professional audio, in-car systems, multimedia and hi-fi consumer products.
Used Analog Mixing Consoles