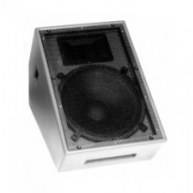 15"Neo-LF,2"HF 70x50 Horn 2-Way Portable Stage Monitor (Bi-Amp)

The SM-1502 is a stage monitor capable of high spl for vocal or instrument monitoring. Low frequencies are handled by a fifteen-inch woofer capable of 800-watt peak power. The high frequencies are reproduced by a horn and driver combination. The two-inch throat compression driver has a three-inch voice coil with a titanium diaphragm and is capable of 120 watts continuous power handling at the recommended crossover point of 1500 Hz. Dispersion is 70x50 degrees. The SM-1502 should be used when very high spl is needed along with long term power handling capability. The SM-1502 should be used whenever more low frequency response than the SM-1202 is needed. The enclosure is angled at 35 and 55 degrees.
OAP
OAP Audio officially entered the Audio Industry in 1974 with it's early focus of servicing Georgia and the Southeastern Region of the US with the design and manufacture of custom Loudspeaker Enclosures. Today, over thirty years later, OAP continues that same focus only now as a worldwide leader in Custom Loudspeaker design and manufacture; and has grown through a dependable and technically sound reputation distributing the OAP brand name of loudspeakers throughout all the US, as well as, Canada; Central and South America; Europe; Asia; Mid East and Africa. Known as a dependable, friendly, and technically competent company to do business with - OAP's focus simply stated is: To provide through design ,manufacture, and local distribution the very best in custom designed Loudspeaker Systems to be used in a variety of professional sound reinforcement applications. OAP Audio Products designs and manufactures a complete line of highly featureable and configurable professional loudspeakers and stage monitors that are typically used in venues such as: Houses of Worship; Government Facilities; Business Conference and Board Rooms; Schools (Classrooms, Gymnasiums, Natoriums, Auditoriums, and Stadiums); Restaurants; Lounges; Discos; Theater, and various Sporting and Entertainment events (including touring sound) both indoors and outdoors. All OAP enclosures are designed and constructed using 3/4" hardwood materials incorporating bracing on interior corners which are extensively t-nailed and glued. Flyable OAP cabinets typically utilize the well known "OAP steel truss system" that make them the safest flying systems in the industry. Components used in each of the OAP systems are of equal construction and sonic quality and are selected from the worlds best audio components manufacturers. These components are typically designed to an OAP specification and incorporated into the overall enclosure's design. The loudspeaker system is then tuned to create an outstandingly efficient, yet warm sounding - sound reproduction system. OAP has developed a seamless design and manufacturing process that incorporates the latest "state-of-the-art" technology. The design process utilizes computer aided tools for proper cabinet styling, sizing, and porting; as well as, CAD tools for crossover design and industry accepted "loudspeaker" measurement criteria. After the system is designed additional CAD/CAM tools are deployed for manufacturability. The cabinet structure is defined, tool pathing for CNC routing is completed and automatically downloaded to the CNC router. The manufacturing process commences upon the release of a shop order to the production floor and can be tracked at multiple locations during the "environmentally controlled" manufacturing cycle. All products undergo a rigorous "in process" and "final test" check. The supply chain is monitored and managed via an internally networked Inventory Management workstation system, and a vendor rating Quality Assurance Program.
Used Monitors
Find used speaker monitors and stage monitors from popular brands as L-Acoustics, Turbosound, EAW and Meyer Sound. All used speakers we carry are warrantied and in most cases inspected by factory certified technicians. Solaris sells and buys secondhand and used stage monitors and monitors for use in churches, clubs, theaters and other large events and shows. Call us if you don't find it and we will find it for you.