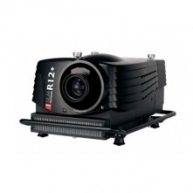 When pure image quality matters, the Barco SLM Performer Series sets new standards in high-brightness projection technology. The SLM Performer Series combines state-of-the-art DLPTM technology from Texas Instruments with Barco's know-how in electronics, optics and mechanical design. This results in images with an impressive light output of up to 12,000 ANSI lumens (13,500 Center lumens) and exceptional image quality and video performance. The SLM Performer features a new generation SXGA+ DMD chip set with a 12 degree tilt angle. The current TLD lens range for SLM projectors has been purposely designed to be future-proof and fully compatible with this new DLP chip technology, allowing the projector to achieve higher light output at higher contrast ratio levels. The inter-compatibility of the TLD lens range ensures that there is no need to invest in new lenses to take advantage of the new technology in the SLM Performer Series. In order to further enhance its performance in this demanding market - which often means performing under very harsh conditions - new dense dust filters have been added to the SLM Performer Series. The new dust filters offer increased resistance to external contamination, thus ensuring that the projector is less likely to suffer image degradation caused by dust contamination as well as ensuring a decrease in the required maintenance cleaning. This projector range is therefore the most effective Solution for the rental & staging industry.
Barco
Barco, a global technology company, designs and develops visualization solutions for a variety of selected professional markets: medical imaging, media & entertainment, infrastructure & utilities, traffic & transportation, defense & security, education & training and corporate AV. In these markets Barco offers user-friendly imaging products that optimize productivity and business efficiency. Its innovative hard- and software solutions integrate all aspects of the imaging chain, from image acquisition and processing to image display and management. Barco has its own facilities for Sales & Marketing, Customer Support, R&D and Manufacturing in Europe, America and Asia-Pacific. The company (NYSE, Euronext Brussels: BAR) is active in more than 90 countries and employs 3,500 staff worldwide. In 2008 Barco posted sales of 742 million euro.
Used Video Projectors
Video projectors such as a digital video projector or an LCD projector are an alternative to regular video screens in that they project images directly onto a screen, rather than projecting the video from behind as a television or monitor does. Video projectors use a lens system and project an extremely bright beam of light onto a screen. Modern video projectors such as a 3 chip DLP projector have are extremely intricate and able to correct inconsistencies in the image such as blurriness and curvature. Video projectors are commonly used in concerts and theatres, and they have many other applications in educational and business settings. They can also be used as part of a home theater system. There are a vast range of different video projectors available. The old CRT projectors are surprisingly still quite widely used, as they are able to project a very large image size, although the bulkiness of the cabinet is not so popular. For professional use in theatres and concerts, the DLP projector is one of the preferred models. DLP video projectors use 1, 2 or 3 Digital Micromirror Devices, called DMDs, which are essentially microfabricated light valves. The 1 chip DLP projector and the 2 chip DLP projector have been known to experience a problem however '?? viewers can sometimes perceive a '??rainbow'?Ě on the projection screen, and so the 3 chip DLP projector is more popular, as this is able to display each primary color in a simultaneous fashion, so the problem doesn'??t occur. The LCD flat panel model is perhaps one of the most popular video projectors for home and business use, as it is both affordable and simple to use. Other video projectors include the LCoS projector, LED projectors, Laser Diode projectors and hybrid LED/Laser Diode projectors.