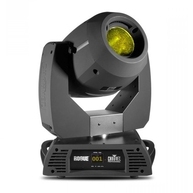 Rogue R2 Spot offers incredible value with a stunning range of colors and effects, all supported by professional quality engineering. Rogue R2 Spot builds on the features of the R1 Spot by adding gobo-morphing technology and two variable scrolling color wheels for an unlimited number of shape-changing and split-color effects. Rogue R2 Spot uses a powerful 240 W LED light source in a 16.5 beam angle for a brilliant light that creates an unparalleled audience experience.
Chauvet
CHAUVET began in the 80s as an OEM distributor and manufacturer from a modest warehouse in North Miami Beach, FL. Today CHAUVET is a major innovator, developer and manufacturer, leading the lighting entertainment market in terms of design, flexibility and options. Our formula is simple: the right products at the right price. Sold through a network of highly professional dealers and distributors, the CHAUVET brand has a global reach built around three core tenets: Value, Innovation, Performance- VIP for short. Professional moving yokes, scanners, wash lights and controllers drive the bulk of CHAUVETs growth. The company also actively pursues new technologies and markets in LED, laser and architectural illumination. Most products are manufactured in Asia. Product design, marketing, technical support, sales, sourcing, quality control, warehousing and shipping are handled in the USA. A passion for lighting and the drive to excel unite an otherwise diverse staff of 50 at the South Florida headquarters. All share the realization that, beyond top-of-the line products, straightforward advice, after-sale service, and support are key to a truly satisfied customer.
Used Moving Lights
Moving lights, or intelligent lighting as they are sometimes called, are basically a type of stage lighting that is able to move due to its integrated mechanical elements, which go beyond the moving parts that are found in more traditional, non-moving lighting. Automated lighting such as moving lights is highly valued by stage lighting technicians as through them, it is possible to create highly complex special effects that simply cannot be made using standard, non-moveable lights. It should be noted however, that when it comes to intelligent lighting, the real intelligence lies with the programmer of the show, rather than the lighting equipment or any operator. Moving head lights, also called moving head luminaires, are highly versatile lighting instruments capable of performing multiple lighting functions at once. They have largely superseded the use of multiple non-moving lights to create special effects, which required many lights and a large amount of skill on behalf of the operators. Moving lights are hooked up to a lighting control console and send data to it in one of three ways '?? through an Ethernet control (a relatively new technology), analogue control (now almost obsolete), or DMX, (which is now the industry standard). So long as they have been properly programmed, the optics of wiggly lights can be altered in many ways, allowing for the '??personality'?Ě of the lights to be adapted almost instantaneously, depending on the requirements of the operator. Typically, moving lights will be pre-programmed before a production and controlled using simple commands, although some more experience operators may prefer to control them '??live'?Ě, if they have the experience to do so.