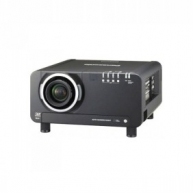 Recent advancements in medical technology have completely changed almost every Aspect of the field. But one of the most profound impacts is on how medical professionals actually work. From diagnostics to treatment to research, things like video conferencing, global collaboration and universal data access have become the norm as opposed to the exception. With these advancements has come an increased dependency on accurate image projection.

Panasonic projectors play an essential role in institutes where lifesaving work is underway. That being said, it was time to update the projectors in the conference rooms of the Moffitt Cancer Center in Tampa, Florida. The original projectors couldn't meet the requirements of the staff and board members, something the center found quite disappointing. "At the heart of everything were the projectors," said David Stringfellow, Coordinator of AV Technology at the center. "It's that important to the doctors that the quality of the image be accurate." The challenge was to find and install high-performance projectors to satisfy the Moffitt Cancer Center's staff, while improving the ability to videoconference with physicians at remote locations.

Today, the center is fully equipped with Panasonic digital projectors that play a vital role in support of the center's lifesaving work. The ability to build a network of projectors that could seamlessly be operated from one central command center was vital to the center's operation.

Bright, vivid images are projected from the Panasonic projectors grabbing the attention of everyone who walks into the main auditorium. Jake Gilray, Sales Engineer of AVI-SPL, says the side-by-side comparison was no contest. Panasonic projectors were an instant hit with his customers at Moffitt. "It was brighter, crisper, the color - all of that was just so much, it was such a step up from what we had before," said Stringfellow. Almost immediately, the center began installing Panasonic projectors throughout its research and patient-care facilities.

The projector in the main auditorium was significantly upgraded to a Panasonic PT-DW10000 with full high-definition capability and Panasonic's BriteOptic? Quad-lamp System for 24/7 continuous operation and reliability. PT- DW10000 looking out into the auditorium from the projection room. Compatible with special designs that allow remote operation from distant locations.

Moffitt's initial experience proved so positive that the center decided to install Panasonic projectors in every one of its more than 60 separate conference rooms. The ceiling-mounted projectors were specially designed to handle medical videoconferences between doctors at Moffitt and physicians at remote locations.

The Horizontal/Vertical Lens Shift Technology of the PT-FW100NT was ideal for the variety of boardrooms located in the center's four buildings. The lens shift and remote operation functions accommodate a variety of usage environments.

The Moffitt Cancer Center boardroom also found itself upgraded with a new projector, the Panasonic PT-D5700. That improvement brought two immediate benefits. First, the Horizontal/Vertical Lens Shift Technology of the projector gave the boardroom the superior flexibility and versatility that Moffitt's leaders required. Second, the projector also worked seamlessly with the boardroom's wireless Remote Control. The new projector setup at Moffitt was also beneficial to its AV staff. It saved time and avoided logistical headaches by using one central location to monitor the more than 60 different Panasonic projectors in four different buildings.

The PT-D5700 in the boardroom help board members make important decisions. The problems that the Center & Research Institute had experienced until now were completely resolved by Panasonic projectors. "They have one central device that allows them to control all the media, and Panasonic, with this device, allows us that freedom. We say it doesn't matter what you bring in, we can handle it. And with the help of Panasonic, we can," said Stringfellow.

Moffitt Cancer Center's move to Panasonic digital projectors has transformed what was a frustrating problem into a positive contribution to the center's most important tasks.
Panasonic
Used Video Projectors
Video projectors such as a digital video projector or an LCD projector are an alternative to regular video screens in that they project images directly onto a screen, rather than projecting the video from behind as a television or monitor does. Video projectors use a lens system and project an extremely bright beam of light onto a screen. Modern video projectors such as a 3 chip DLP projector have are extremely intricate and able to correct inconsistencies in the image such as blurriness and curvature. Video projectors are commonly used in concerts and theatres, and they have many other applications in educational and business settings. They can also be used as part of a home theater system. There are a vast range of different video projectors available. The old CRT projectors are surprisingly still quite widely used, as they are able to project a very large image size, although the bulkiness of the cabinet is not so popular. For professional use in theatres and concerts, the DLP projector is one of the preferred models. DLP video projectors use 1, 2 or 3 Digital Micromirror Devices, called DMDs, which are essentially microfabricated light valves. The 1 chip DLP projector and the 2 chip DLP projector have been known to experience a problem however '?? viewers can sometimes perceive a '??rainbow'?Ě on the projection screen, and so the 3 chip DLP projector is more popular, as this is able to display each primary color in a simultaneous fashion, so the problem doesn'??t occur. The LCD flat panel model is perhaps one of the most popular video projectors for home and business use, as it is both affordable and simple to use. Other video projectors include the LCoS projector, LED projectors, Laser Diode projectors and hybrid LED/Laser Diode projectors.
PT-DW10000 - PT-DW10000 with flight case in good condition, preciously used in tour.
PT-DW10000 - DLP Projector with 10.000 ANSI. Resolution is 1920x1080. No Case. Comes in cardboard.
PT-DW10000 - Used on an installation. Will be protected before shipping.
PT-DW10000 - 10,000 Lumen projector that has an older light engine that puts out 4,000 lumens.