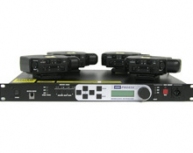 A wireless intercom system featuring 2 channels of intercom, auxilliary audio input and scanning of best frequencies.

The PRO 850 is frequency synthesized allowing you to successfully operate in hostile RF congested areas. Frequencies can be selected in 25 kHz increments over each 18 MHz operational band providing you with 720 different transmit and 720 different receive frequencies.

Additional Features:

- Frequency Agile UHF Operation - 470MHz to 740MHz
- Automatic Frequency Scanning for Interference Free Operation
- Automatic Power Output Control for exceptional range and longer beltpac battery life
- Two Channel Hardwired Interface simultaneously supports two-wire and four-wire systems
- Channel Lockout with busy signalization for beltpac remotes sharing same frequency
HME
Proven Technological Leadership Founded in 1971, HM Electronics, Inc. (HME) is a leading provider of customer-focused solutions to enhance the performance and productivity of businesses worldwide. Our groundbreaking products, passion for excellence, and commitment to service have earned us the distinction of being the leader in communications technologies for the professional audio, commercial sound, and communications marketplace. HME's core business at our founding was the professional audio market with wireless technology. In fact, we were the first to develop a wireless intercom system that quickly became the industry standard among broadcast and entertainment professionals. For over three decades, HME continues to maintain our leadership role with the introduction of breakthrough wireless intercom systems and accessories that are used in a variety of demanding applications. A privately held company, HME provides products and services to over 80 countries worldwide. The key to our success lies in the importance we place on meeting our customers needs and the competitive spirit that drives us to be the best.
Used Communication Accessories
Communication accessories are essential pieces of equipment for stage managers and technicians involved in the production of concerts and other shows. Being able to communicate with other technicians and producers during the middle of productions is essential if everything is going to go off without a hitch, and for that reason communication accessories are vital to make sure everything is in good working order and kept closely to hand. One of the most important pieces of kit for any technician is the belt pack, and for this reason a belt pack charger is a must have '?? allowing technicians to instantly recharge their belt pack at any time they need to, quickly and easy. Other communication accessories include an antenna for the radio receiver, and an antenna kit for configuring it, so that communications that do not interfere with the sound production can take place. The Mic Assembly is also another essential part of a technician'??s communication accessories, acting as a hands-free headset and allowing him or her to communicate with team members while using their hands to perform some other essential task. Finally, technicians will need somewhere to keep their communication accessories where they can be easily accessed, which is why a belt clip or a pouch which can be clipped onto a belt is so handy.
Pro850 - HME PRO850 wireless intercom system. Demo unit.