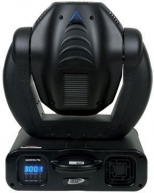 A new inovation in Automated lighting. The POWER SPOT 575 boast a powerfull 575 discharge lamp in a fixture the size as the popular Power Spot 250. Along with this powerfull output the POWER SPOT 575 features 2 Gobo wheels with the popular "Slot-Lot" quick gobo change technology for gobo overlaying effects.
The POWER SPOT 575 is the ideal fixture for any Venue or event!

Control Features
? USITT DMX-512 (16-bit resolution)
? Pan 540/Tilt 280
? 16 DMX channels
? 4 Digit Blue L.E.D. Display
? 3 pin XLR serial input/output

Optical Features
? Remote Focus via DMX
? High Output Luminous-Efficiency axial reflector and double condenser lens system
? 15 Beam Angle

Color Features
? 11 Colors + White
? UV filter
? Color Scroll
? Split Colors

Gobo Features
? 16 Gobos on 2 wheels
? Conveniant Slot-Lock gobo replacment system
? Gobo Shake Effect
? Gobo Scroll
? Wheel 1: 7 interchangable Rotating/Indexing Gobos, 3 Lithographic, 1 Glass, 3 Metal
? Wheel 2: 9 interchangable Static Metal Gobos
? Gobo Size Wheel 1: 26.9mm x 23mm viewing x 4mm thickness
? Gobo Size wheel 2: 26.9mm x 23mm viewing metal only

Effect Features
? 4.9 mW Red Laser with pulse effect
? 3 facet prism rotating in both directions at variable speeds
? Gobo Overlaying

Shutter/Dimmer features
? Mechanical Dimming 0-100%
? Mechanical High Speed shutter & Pulse Effect

SPECIAL DMX-Control Features
? 16 pan/tilt preprogramed movements via DMX
? Built-in Programs via DMX
? Pan/Tilt/Gobo/Color & Prism set to Sound Active mode via DMX

Stand-Alone Features
? Sound activated built in programs
? Sensitivity knob
? Linkable up to 16 units
? Self Test & Stand Alone settings
? Built in Microphone with sensitivity knob.

Technical Specifications
? Lamp: Osram HTI575/DE (575W, 5600K, 500hrs)
? Dimensions: 26"x12"x10" (530x200x180mm)
? Weight: 50lbs (22.68kgs)
? Fuse: 10A
? Voltage: 120V/220v (50/60Hz)
? Power Consumption: 700VA
? Fan cooled 1 axial fan for head 1 for base.
Elation
Elation Professional - Professional Lighting & Entertainment Products and Accessories!
Used Moving Lights
Moving lights, or intelligent lighting as they are sometimes called, are basically a type of stage lighting that is able to move due to its integrated mechanical elements, which go beyond the moving parts that are found in more traditional, non-moving lighting. Automated lighting such as moving lights is highly valued by stage lighting technicians as through them, it is possible to create highly complex special effects that simply cannot be made using standard, non-moveable lights. It should be noted however, that when it comes to intelligent lighting, the real intelligence lies with the programmer of the show, rather than the lighting equipment or any operator. Moving head lights, also called moving head luminaires, are highly versatile lighting instruments capable of performing multiple lighting functions at once. They have largely superseded the use of multiple non-moving lights to create special effects, which required many lights and a large amount of skill on behalf of the operators. Moving lights are hooked up to a lighting control console and send data to it in one of three ways '?? through an Ethernet control (a relatively new technology), analogue control (now almost obsolete), or DMX, (which is now the industry standard). So long as they have been properly programmed, the optics of wiggly lights can be altered in many ways, allowing for the '??personality'?Ě of the lights to be adapted almost instantaneously, depending on the requirements of the operator. Typically, moving lights will be pre-programmed before a production and controlled using simple commands, although some more experience operators may prefer to control them '??live'?Ě, if they have the experience to do so.
Power Spot 575 - Pulled from an install. Fixtures have been cleaned and tested. Includes a new lamp.