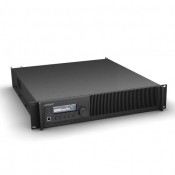 QuadBridge Technology Allows each 4-channel loudspeaker BLOCK to be configured as Mono, V-Bridge, I-Share or Quad modes, allowing the total available power of the amplifier BLOCK to be allocated to one or more output channels. The amplifier is capable of driving both low impedance and 70/100V loudspeaker loads directly.
Bose ControlSpace Designer software PowerMatch amplifiers can be fully configured using ControlSpace Designer software via the onboard front panel USB connection, or the rear panel Ethernet connection (network models only). Using ControlSpace Designer software you can access additional features including: Parametric EQ stages, load sweep of each output channel and auto standby. ControlSpace Designer software is also used to integrate network model PowerMatch amplifiers into larger control and monitoring systems comprised of Bose ESP processors and CC control centers.
Auto-Standby/Auto-Wake function When enabled, this function automatically enters/exits Standby Mode, allowing the system to consume less power.
Dual voltage and current feedback loop Proprietary design combines Class-D efficiency with a unique current and voltage feedback loop circuit that continuously Monitors and controls both the current and voltage delivered to the loudspeaker load. Independent of power level and load impedance, the amplifier consistently delivers the widest possible dynamic range, frequency response and lowest possible distortion.
PeakBank Power Supply Regenerative 4-quadrant Power Supply enables higher power density while allowing the re-use of energy from reactive loads that is normally wasted in conventional Class-D designs. This highly efficient amplifier design delivers sustainable and repeatable low frequency response.
Fast-tracking power factor correction (PFC) Efficiently manages the current drawn from the AC mains, allowing the amplifier to drive loudspeakers to maximum output longer without power fluctuation. PFC provides superior transient response and functions at peak burst power much longer than conventional Class-D amplifier designs to satisfy the requirements of even the most demanding program material.
Bose
Bose Corporation was founded in 1964 by Dr. Amar G. Bose, then professor of electrical engineering at the Massachusetts Institute of Technology. While doing graduate work at MIT in the 1950s, Dr. Bose decided to purchase a new stereo system. He was disappointed to find that speakers with impressive technical specifications failed to reproduce the realism of a live performance.
Used Amp Rack Units
Find used audio amps and amplifiers by top manufacturers such as Lab Gruppen, Crown, Crest, Powersoft and more. All products come with warranties and are tested before shipping to you. Solaris sells and buys secondhand and used amplifiers for installations, concerts, churches, events and all types of entertainment production. If you do not find what you are looking for give us a call and we will quickly find it for you.