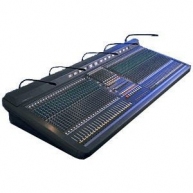 Database Error
Message:
MySQL Query fail: select REGISTERED_MODEL, ID_REG_MODEL, registered_manufacturers.REGISTERED_MANUFACTURER FROM registered_models LEFT JOIN registered_manufacturers ON ( registered_manufacturers.ID_REG_MANUF = registered_models.ID_REG_MANUF ) where REGISTERED_MODEL REGEXP '[[:alnum:]]+' && SEO_EXCLUDE_KEYWORD != 1 && LENGTH(REGISTERED_MODEL) >= 5 order by rand()
MySQL Error:
Error writing file '/var/tmp/MY4mQ8l9' (Errcode: 28 - No space left on device)
Date:
Saturday, November 25, 2017 at 2:47:48 AM
Script:
/used/pm3500/38985
The
Yamaha
PM3500 input channels, auxiliary returns and output buss On/Off functions are electronically controlled via a central CPU. The consoles allow up to 128 patches or "scenes" to be stored in memory and recalled via a 10-key pad on the front panel or an external MIDI device. In addition to complete scene changes, external MIDI control can be used to individually turn input and output channels on or off as required.
PM3500 FOH version
PM3500-24 [24MONO + 4ST INPUTS]
PM3500-32 [32MONO + 4ST INPUTS]
PM3500-40C [40MONO + 4ST INPUTS]
PM3500-48C [48MONO + 2ST INPUTS]
The PM3500 offers extensive Cue/Solo capabilities. First, there are two cue modes: Last Cue and Mix Cue. Last Cue offers several important functions: (1) it allows you to scroll through cues without having to turn each channel on and then off, (2) it eliminates the frantic search for the previous cue because it automatically drops it when a new one is selected, and (3) a double tap on Last Cue button clears the entire board of all cues. In contrast, Mix Cue allows you to build, or pile, a cue onto any existing one(s) so you can completely monitor large selections of channels or VCA groups.
The
Yamaha
PM3500 features input peak LEDs to properly set levels of individual channels. Next, the new Peak indicators give a visual indication of each individual buss. If the levels on the group, auxiliary, stereo, matrix or cue outputs are too high, a peak LED in the output VU meters flashes to warn of the impending danger of clipping.
* The PM3500 and PM3500M consoles offer the strength and reliability of all
Yamaha
consoles, plus a long list of powerful new features and enhancements.
* Both Front of House and Monitor version fit in the same ergonomically superior frame. The compact, lightweight frame is angled for easier viewing and access and includes extra handles for easier carrying.
* FOH version comes in 24, 32, 40 or 48 inputs (24 channel configuration requires a special order in the US.)
* Monitor version offered in 44 or 52 inputs
* All inputs include 4-band parametric EQ with high/low shelving, switchable inserts, 8 VCA control assigns and direct outs
* Unique 12 x 4 stereo x 4 mono Mix Matrix features 4 stereo and 4 mono outputs
* 128 Digitally controlled memories instantly recall mute scenes
* Greatly expanded Cue/Solo functions improve operator control
* PFL and VCA cue trims allow optimum level setting
* SIGMA Peak indicators precisely monitor buss levels
* 4 Stereo input modules come standard (more are optional)
* Continuously variable 50 dB gala trim plus switchable 30 dB pad lets inputs handle any signal
* 8 Mono auxiliary mixing busses are all pre/post selectable via external switches
* 8 Primary mix busses (groups) plus a stereo buss can be "direct assigned" from inputs
* 8 VCA groups with mute and cue capability are controlled by full-length group faders
* Large dedicated stereo VU meters plus 12 switchable VU meters display output levels
* Both versions use the PW4000 power supply which includes full power monitoring
Yamaha
Since 1887, when it began producing reed organs, the Yamaha Corporation in Japan (then Nippon Gakki Co., Ltd.) has grown to become the world's largest manufacturer of a full line of musical instruments, and a leading producer of audio/visual products, semiconductors and other computer related products, sporting goods, home appliances and furniture, specialty metals, machine tools, and industrial robots. Yamaha now owns 59 subsidiaries and affiliates in overseas markets in addition to numerous related companies in Japan. Additionally, Yamaha owns and runs its unique resort facilities throughout Japan so as to enhance our customers' leisure and cultural activities. Also, Yamaha provides a place for studying music, sets opportunities for presenting one's own compositions, and creates an environment for the enjoyment of a variety of musical endeavors. Since Yamaha Music Foundation was established in 1966, it has generated a wide range of music activities throughout global society, including Yamaha music schools, and the Junior Original Concert. Strong commitment to promote and support music education and popularization is one of the most significant elements to distinguish Yamaha from its competitors. Yamaha has endeavored to produce products and services that satisfy the diverse needs and desires of people worldwide. Its products and services are recognized the world over for superior quality in acoustics, design, technology, craftsmanship, and customer oriented services. These products and services under the brand name of Yamaha are highly regarded by a large number of professionals, institutions, business people within the related industries, and consumers. Our corporate philosophies are embedded in our customer oriented management and operations; providing excellence in our products and services; continuous efforts to expand our existing market and create new markets; enhancement of research and development on a long range perspective; commitment to care for end users through providing even better service after sale; pursuit of further globalization of Yamaha's business; fostering positive growth through diversification. Yamaha's very basic corporate objective is reflected in everything that it does, which is to contribute to the enrichment of the quality of lives for people around the world.