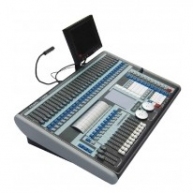 The Pearl Tiger is a powerful, streamlined 10 roller playback version of Avo's famous and most popular 'live' lighting console.

It offers everything the LD, programmer or operator needs for quick and easy programming of small to medium sized shows .... with all the power, ease of use and versatility of a full sized Pearl.

The Pearl Tiger is equally suited for small theatres, conferences, schools & colleges, small to medium scale productions or production companies, tours, venues and nightclubs.

It's small footprint, powerful functionality, familiar operating system, together with the ability to carry it under your arm make it the ideal choice for jobs having a quick setup limited rehearsal time and where the operator needs to be in full control for last minute changes.

The Pearl Tiger is fully show compatible with Pearl 2004, 2008 and Pearl Expert and shows can effortlessly be loaded and swapped between these consoles.
Specification
bulletAll the power of an Avolites Pearl at an irresistible price
bulletOffers all the Pearl features including Theatre Playback, timecode, MIDI triggers, etc
bullet2,048 channels to 240 Moving Lights on 4 isolated DMX outputs
bullet10 playback submasters, expandable to 15 with external Playback Wing
bulletFull personality library in the console, with free updates on website
bulletCan Save multiple shows instantly to internal USB flash disk or external USB memory stick
bulletCan Load or Save any Pearl show
bulletSupplied with colour LCD VGA screen
bulletTiger footprint 67cm by 48cm by 14cm or 30cm with VGA screen
bulletTiger weight 13 Kg
bulletNo additional training required for Pearl users
bulletLooks extremely cute!
Avolites
olites are dedicated to producing the very best control solutions for all aspects of the professional lighting industry. The company has focused on, listened to and built upon end-user feedback which has allowed continual development and evolution of the product range. Avolites equipment utilises cutting-edge technology whilst retaining the accessible, intuitive, hands-on familiarity for which Avolites' products have become popular and renowned. Avolites also believe 'the people' part of the equation is vital in ensuring their position as market leader is maintained. The company comprises a creative, motivated, positive and lateral thinking team of individuals who will ensure a successful and progressive future for the company.
Used Lighting Consoles
Find used lighting consoles and lighting desks in well maintained condition from such popular brands as MA Lighting, High End Systems, Avolites, Jands and Martin Professional. All used lighting consoles come with warranty and many have been certified by factory technicians. Solaris sells and buys secondhand and used lighting consoles desks for touring production, churches, theaters, film, television and more. If you do not find what you are looking for give us a call.
Pearl Tiger - Compact version of Pearl
Pearl Tiger - Pearl Tiger in excellent condition.
Pearl Tiger - Used on various rentals. Comes with a 7 day warranty.
Pearl Tiger - Pear Tiger with flight case in mint condition. Previoulsy used on a church installation.
Pearl Tiger Wing - Avolites Pearl Tiger Wing.
Pearl Tiger - This is a Pearl Tiger Compact Version. Used as a Demo Unit. From 2009. Comes with a 30 Day Warranty.
Pearl Tiger - Pearl Tiger with flight case in good condition. Previously used on various rentals.
Pearl Tiger - Used on various rentals. Comes with a 7 day warranty.