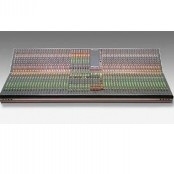 The Paragon II Production Console from Audio Toys Inc. is designed for use in live sound, broadcast and theater applications. Offering 64 mic inputs and 12 stereo line input pairs, the Paragon II features eight mono and four stereo aux-send buses and eight stereo subgroups, eight stereo Matrix outs, two main mono mix outs and two main stereo mix outs. All input channels have a stereo direct out and an insert send, each with its own level control. Fully expanded, the unit can provide more than 100 high-gain mic inputs. Audio-control capabilities include eight VCA groups and two VCA grand masters. Each channel has ATI's famous 4-band parametric EQ, a compressor/gate and true LCR panning with LCR audio subgroup capability. An onboard computer stores/maintains all channel, group and master scene information within a flash microcontroller on every input, which enables the system to respond instantaneously, eliminating system boot-up and response wait times. Enhancement options include channel and aux mute memory, eight-scene or 256-scene snapshot fader recall, and full dynamic, SMPTE-based moving-fader automation. Prices start at $119,000.
ATI Audio
ATI has long been recognized as a manufacturer of high quality broadcast audio/studio equipment. In recent years, ATI has expanded its business base from exclusively broadcast to also include sound reinforcement and professional sound applications. ATI currently has over 70,000 pieces of equipment in use worldwide. Some of the recognized users are the United Nations Headquarters in NYC, Voice of America Worldwide, the Architect of the Capital (which services the United States Senate, House of Representatives, and the White House), federal and state agencies, IBM, AT&T, CBS, ABC, NBC and affiliates, cable companies such as HBO, CNN and ESPN, independent TV and Radio stations worldwide, production studios, theme parks and sports stadiums, Disney World, Universal Studios and Warner Communications, along with many others.
Used Analog Mixing Consoles
Paragon II - In very good condition. Everything works perfectly.
Paragon II - Paragon II in great condition.