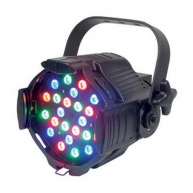 SYSTEM FEATURES:
? High output L.E.D. Color Changer
? Powerful 1 Watt LEDs
? Total of 24 LEDs (8 red, 8 green, 8 blue)
? Full RGB color mixing
? 7 DMX channels
? On-board DMX (addressable via 10 dip switches)
? Full dimming capacity
? Built-in sound active programs
? Sturdy, high-impact aluminum construction
? Heavy duty rigging yoke
? Very low power consumption
? Very low heat output
? Long-life LEDs (50,000 hr. life)
Elation
Elation Professional - Professional Lighting & Entertainment Products and Accessories!
Used LED Par
Find used LED par cans and used LED pars from top brands such as Chauvet, Elation, Martin Professional and Color Kinetics. All products come with warranties and are tested before shipping to you. Solaris sells and buys secondhand and used LED par cans and used LED pars for event production, houses of worship, concert and theaters. If you do not find what you are looking for give us a call and we will quickly find it for you.
OPTI RGB - OPTI RGB FIXTURES
OPTI RGB - Elation OPTI RGB LED lights. Purchased new in 2010. 14 day warranty.
OPTI RGB - Used less than 3 times
OPTI QUAD PAR RGBW - Like new OPTI QUAD PAR RGBW in mint condition, from 2012.