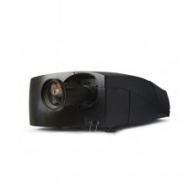 Barcos innovative WUXGA, three-chip DLP NW-12 projector offers full compatibility with the resolution of modern high-end laptops. With its bright light output and excellent color quality, it is an outstanding choice for large-sized meeting rooms, boardrooms and auditoriums in a diverse number of markets.

The NW-12 also comes equipped with native multi-channel features, to allow for easy, flexible integration into a high-resolution display system. This gives you the feeling of working with one, large and seamless display environment. You wont even notice that there are several projectors powering your screen.

Supreme color quality and system integration

The NW-12 boasts the right color and brightness qualities, and guarantees optimum compatibility for high-end laptops or combinations between text and images for auditoriums or large meeting- and boardrooms. Its multi-channel features also ensure one seamless image without color or brightness differences when it is used in multiples to power larger screens, or if you want a perfect, multi-megapixel image to wow your audience.

Enhanced collaboration through simplified ease of use

Barcos NW-12 gives you the options to project all local, connected or networked sources simultaneously across a widescreen Windows desktop. With mouse and keyboard, these source windows can be moved, resized or made to overlap easily, and through the Start Menu, you can quickly access both sources and layouts. This means that with the NW-12, you can get to work immediately, without delay, without fuss.

Extended durability through advanced system design

The NW-12 has been specially designed with durability in mind. While its sealed optical engine prevents environmental contamination of its image quality, its liquid cooling also helps to reduce noise levels to a minimum. This helps resulting in the fact that Barcos NW-12 can claim a lifetime that is 60% longer than that of typical three-chip DLP projectors.
Barco
Barco, a global technology company, designs and develops visualization solutions for a variety of selected professional markets: medical imaging, media & entertainment, infrastructure & utilities, traffic & transportation, defense & security, education & training and corporate AV. In these markets Barco offers user-friendly imaging products that optimize productivity and business efficiency. Its innovative hard- and software solutions integrate all aspects of the imaging chain, from image acquisition and processing to image display and management. Barco has its own facilities for Sales & Marketing, Customer Support, R&D and Manufacturing in Europe, America and Asia-Pacific. The company (NYSE, Euronext Brussels: BAR) is active in more than 90 countries and employs 3,500 staff worldwide. In 2008 Barco posted sales of 742 million euro.
Used Video Projectors
Video projectors such as a digital video projector or an LCD projector are an alternative to regular video screens in that they project images directly onto a screen, rather than projecting the video from behind as a television or monitor does. Video projectors use a lens system and project an extremely bright beam of light onto a screen. Modern video projectors such as a 3 chip DLP projector have are extremely intricate and able to correct inconsistencies in the image such as blurriness and curvature. Video projectors are commonly used in concerts and theatres, and they have many other applications in educational and business settings. They can also be used as part of a home theater system. There are a vast range of different video projectors available. The old CRT projectors are surprisingly still quite widely used, as they are able to project a very large image size, although the bulkiness of the cabinet is not so popular. For professional use in theatres and concerts, the DLP projector is one of the preferred models. DLP video projectors use 1, 2 or 3 Digital Micromirror Devices, called DMDs, which are essentially microfabricated light valves. The 1 chip DLP projector and the 2 chip DLP projector have been known to experience a problem however '?? viewers can sometimes perceive a '??rainbow'?Ě on the projection screen, and so the 3 chip DLP projector is more popular, as this is able to display each primary color in a simultaneous fashion, so the problem doesn'??t occur. The LCD flat panel model is perhaps one of the most popular video projectors for home and business use, as it is both affordable and simple to use. Other video projectors include the LCoS projector, LED projectors, Laser Diode projectors and hybrid LED/Laser Diode projectors.