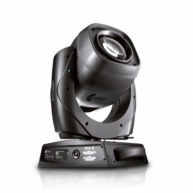 Mythos 2 features a new and reliable Osram Sirius HRI 440W lamp, which ensures the extraordinary performances that have made the success of MYTHOS worldwide. Mythos 2 is an excellent Spotlight, which produces an outstanding large light beam, featuring a zoom that ranges from 4 to 50 (1:12 ratio).Light beam is sharp, with perfectly defined edges, from the first millimetres after the front lens right along its entire length. The zoom is optimized for focusing, which is separate from that of the fixed and rotating Gobos. Its movements are smooth, fast and very quiet. Mythos 2 also features an indexed visual effect disc, which may be superimposed on all the Gobos, both in and out of focus. But Mythos 2 is also an extraordinary beam light, allowing you to switch to a minimum fixed beam angle of just 2.5. A large, very dense, 160 mm-diameter light beam leaves the Mythoss front lens and remains parallel for its entire length even at great distances. Mythos 2 is a very versatile tool, which is useful in any situation and therefore an excellent investment.
Clay Paky
Manufacturer of moving lights, effects, and image projectors.
Used Moving Lights
Moving lights, or intelligent lighting as they are sometimes called, are basically a type of stage lighting that is able to move due to its integrated mechanical elements, which go beyond the moving parts that are found in more traditional, non-moving lighting. Automated lighting such as moving lights is highly valued by stage lighting technicians as through them, it is possible to create highly complex special effects that simply cannot be made using standard, non-moveable lights. It should be noted however, that when it comes to intelligent lighting, the real intelligence lies with the programmer of the show, rather than the lighting equipment or any operator. Moving head lights, also called moving head luminaires, are highly versatile lighting instruments capable of performing multiple lighting functions at once. They have largely superseded the use of multiple non-moving lights to create special effects, which required many lights and a large amount of skill on behalf of the operators. Moving lights are hooked up to a lighting control console and send data to it in one of three ways '?? through an Ethernet control (a relatively new technology), analogue control (now almost obsolete), or DMX, (which is now the industry standard). So long as they have been properly programmed, the optics of wiggly lights can be altered in many ways, allowing for the '??personality'?Ě of the lights to be adapted almost instantaneously, depending on the requirements of the operator. Typically, moving lights will be pre-programmed before a production and controlled using simple commands, although some more experience operators may prefer to control them '??live'?Ě, if they have the experience to do so.
Mythos 2 - TV Studio Use Only. Original Mythos upgraded to Mythos 2.