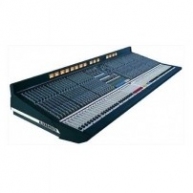 Database Error
Message:
MySQL Query fail: select REGISTERED_MODEL, ID_REG_MODEL, registered_manufacturers.REGISTERED_MANUFACTURER FROM registered_models LEFT JOIN registered_manufacturers ON ( registered_manufacturers.ID_REG_MANUF = registered_models.ID_REG_MANUF ) where REGISTERED_MODEL REGEXP '[[:alnum:]]+' && SEO_EXCLUDE_KEYWORD != 1 && LENGTH(REGISTERED_MODEL) >= 5 order by rand()
MySQL Error:
Error writing file '/var/tmp/MYEdiTpg' (Errcode: 28 - No space left on device)
Date:
Saturday, November 25, 2017 at 2:50:41 AM
Script:
/used/ml4000/39160
The Allen & Heath ML4000 is a large format VCA equipped dual function live sound console
providing many of the features of its larger brother the ML5000. It can be quickly configured for
front-of-house (FOH) or stage monitor mixing. As one console suitable for both applications it is
equally well suited to installation, rental and touring. It offers an IO capability and feature set tha
satisfies the latest trends in live sound engineering, in particular the growing number of inputs and outputs for multi-speaker house and monitor systems, demands of stereo in-ear monitoring, 3 speaker LCR imaging, advanced grouping and automation. The design ensures on-the-road
durability, a clear layout for easy walk up and go operation, and no-compromise
Audio Performance
.
23 buss live sound VCA console
ML4000 sits squarely in the centre of the ML series, providing an ideal solution for those customers who need similar functionality to the ML5000 but who can't justify the size or expense.
The console boasts advanced VCA capability and our innovative LCRplus panning system. We even found a way to provide a similar level of show automation capability to ML5000, thanks to our archiver / snapshot PC software (available free from this site).
NEW: There is now a 'B' Option available with first 4 mono channels replaced with 4 stereo channels
Allen and Heath
We've built a lot of mixers in the last 35 years or so (over 160,000 at the last count) and we still get a huge buzz out of doing it well. It's an unbeatable feeling to know that at any time of day or night, right across the globe, there is an Allen & Heath mixer out there working hard, sounding great and making life a little easier for the guy at the controls.
Used Analog Mixing Consoles
Database Error
Message:
MySQL Query fail: select MODEL, ID_ITEM, SUBTITLE, DESCRIPTION, QUANTITY,STATUSS from items where STATUSS LIKE '%SOLD%' && PRICE_FINAL_US >0 && QUANTITY >0 && ID_ITEM != 39160 && ID_REG_MODEL = 1205 && LENGTH(SUBTITLE) > 0 && LENGTH(DESCRIPTION) > 0 order by rand()
MySQL Error:
Got error 28 from storage engine
Date:
Saturday, November 25, 2017 at 2:50:41 AM
Script:
/used/ml4000/39160