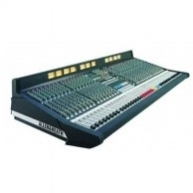 The most compact VCA mixer available today, but don't let its small size and
modest price fool you this console is packed with all the tools you need for
professional live sound mixing. The ML3000 earns its place in any PA
system - the perfect investment!

ML3000 is a dual function, LCRplus, 4 group, 8 aux, 8x4 matrix, VCA console.
Frame sizes range from 24+2 to 48+2 channels, with B option for more stereo channels.

15 buss live sound VCA console
Never before has a fully equipped VCA desk been accessible to so many people. Once again we've applied our design skills to making a previously exclusive technology affordable to people on a real world budget.

We've also included our unique LCRplus panning system, bringing sophisticated signal imaging within reach for smaller shows. All this power is harnessed in a remarkably compact console which is a real pleasure to drive thanks to its simple, uncluttered control layout.

NEW: There is now a 'B' Option available with first 4 mono channels replaced with 4 stereo channels

FEATURES
? 24+2, 32+2, 40+2, 48+2 channel frames
? 2 extra dual input stereo channels fitted as standard
? B option for 4 extra dual stereo in place of mono channels
? 8 VCA groups for level control
? Dual functionality for mixing front-of-house, stage Monitors or both
? Monitor mode provides auxes with faders, inserts, mutes and meters
? LCRplus panning available from channels and groups
? 4 audio groups for inserting processors or feeding the matrix
? 8 aux sends plus aux 7-8 stereo mode for creating a true stereo mix
? 8x4 matrix with inserts and external inputs
? 8 mute groups
? 4 band EQ with swept mid range
? Swept 20-400Hz HPF
? Stereos can mix two balanced stereo sources into one channel
? 128 snapshot memories for MIDI/RS232 recall of VCA assignments and mutes
? ALLEN&HEATH ML Archiver software available for PC control of the memories
? Talkback to any of the fader masters and LCR outputs
? PFL override AFL for quick input/output monitoring
? Fader driven engineers Listen wedge feed with insert in monitor mode
? Simultaneous LED bar and moving coil VU metering of all main outputs
and P/AFL
? Channel meters
? Separate stereo headphones and local monitor control
? LCR to stereo engineers monitor capability
? 1kHz oscillator / pink noise generator
? Preamp input capability for mic or line up to +30dBu
? Main, group, aux and matrix outputs on balanced XLR
? 4-pin XLR lamp sockets ALLEN&HEATH LEDlamp available
? Uses RPS11 high performance external linear Power Supply
? Optional RPSD2 dual supply combiner to link another RPS11 for backup
? Optional Sys-Link V2 input/output option to link consoles for more channels
? Internal aux jumper options for pre-insert, pre/post-EQ, pre/post-mute settings
? Internal direct output jumper
Allen and Heath
We've built a lot of mixers in the last 35 years or so (over 160,000 at the last count) and we still get a huge buzz out of doing it well. It's an unbeatable feeling to know that at any time of day or night, right across the globe, there is an Allen & Heath mixer out there working hard, sounding great and making life a little easier for the guy at the controls.
Used Analog Mixing Consoles
ML3000 - ML 3000-832 32 channel + 8 VCA
ML3000 - 48 channel input. LCR output configuration legendary analog board. 30 day warranty.
ML3000 - Used in Church Twice a Week - 40 Ch. Version
ML3000 24Ch - ML3000 is a dual function, LCRplus, 4 group, 8 aux, 8x4 matrix, VCA console. 30 day warranty.
ML3000 - 40ch + 2 Stereo Analogue Mixing Console
ML-3000 - 40 inputs
ML3000 - ML3000 in great condition.
ML3000 - ALLEN HEATH ML3000-40 w/Extras!