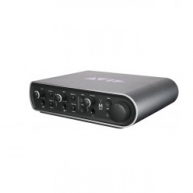 Mbox Studio is a software-only media server application, which can be installed and operated on any Apple Mac computer (Intel processor, OSX 10.6.7 and higher). A compact version of Mbox software with eight playback layers, Studio still offers substantial power and versatility. This software operates identically to the full Mbox software in playback, effects, and transition functions. Studio can handle both SD and HD content, with no content or output size limitations. It offers eight playback layers, a fully functional pixel mapping toolset, pixel remapping, and 3D projection mapping. A demo content library, available as a separate download, can be used as a starting point for content creation with Mbox Studio.

Mbox Studio is an application intended for use on smaller productions and as an easily transportable addition to the Mbox family of products. Users of Mbox Studio can download and install Mbox Director (free), a simple yet sophisticated graphical user interface (GUI) control application. Director allows users to configure and control all aspects of Mbox Studio content and playback on any Mac computer.

Alternatively, a moving light console may be used to control Mbox Studio; fixture profiles exist for popular consoles.
AVID
Provides information on all-digital solutions for capturing, creating, editing and distributing digital media. Avid products are used to produce films.
Used Recording
Sound recording is a form of recording or reproduction using electrical and mechanical translation of the sound waves. The sounds recorded are usually spoken voice, instrumental music, singing and sound effects. Audio recording can either be analog or digital. Analog recording uses a transducer such as a microphone to record sounds analogous to the air pressure surrounding the sound being recorded. The analog recorder may use a microphone diaphragm for acoustic sound recording. This microphone is highly sensitive to changes in the pressure of the acoustic sound waves. It records these sounds in graphic representations such as the phonograph that records grooves with a stylus. Sound waves from electronics can be directly reproduced from the pickups of an electric guitar or synthesizer. These are commonly used by musicians to hear how well they are doing during a recording session. Digital recording is the direct recording of audio or video into a storage device that records it as binary numbers representing the modifications in atmospheric pressure of the sound. The record can be stored and read back to be reproduced. This type of recording is more accurate and is more resistant to errors compared to analog recording. Both however have their own limitations. The analog system is bound by the capabilities of the medium and circuits used to record. In the digital system, the ratio of signal to noise is bound by the bit depth of the modification from analog to digital. Natural noise is a common limitation of both recording systems.