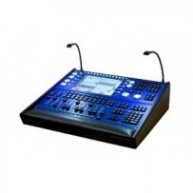 Measuring just 625mm by 580mm it fits comfortably into even the smallest of FOH control positions. With its large in-built colour touch-screen there is no need for external Monitors - the control is at your fingertips. Each of the ten theatre style playback controls is electronically labelled to show the current and next steps in the Cue Stack. Eight improved style rotary encoders make controlling individual parameters simple. MQ100 supports effortless playback of pre-programmed shows whilst allowing instantaneous over-ride via the powerful MagicQ programmer for "busking" those unexpected moments.

MagicQ MQ100 Pro provides an ideal starting point for the Lighting Designer. With access to up to 202 playbacks through virtual playback controls the MQ100 can handle even the most complex of shows.

And should more playbacks faders be required for a particular show, just connect one or more MagicQ Playback Wings to any of the 4 USB ports.
Chamsys
Company History Initially a group of lighting designers and long time lighting product developers got together to develop a new console that would overcome the limits of traditional consoles. ChamSys was formed in April 2003 by bringing together a team of lighting designers, software and hardware developers. ChamSys' mission is to utilise the latest technology to bring developments to the lighting console market: high performance at low cost with high reliability. We are Lighting Designers ChamSys is in the unique position of utilising software developers that are themselves lighting designers. This ingrained knowledge has enabled us to develop a console to meet the needs of the end users rather than the software programmers. Our board of directors have worked in the lighting industry for over 20 years, with varying backgrounds from part owners of lighting hire companies, design consultants on well known products, and lighting designers. Our hardware engineers have had wide experience in all sections of the lighting industry, including laser consoles, moving light systems, industrial and scientific real time control. Our software engineers have worked on many different systems, including lighting products, telecommunications products, and computer systems. We have a high level of experience in developing real time systems where reliability and performance are key requirements. ChamSys staff have played a major role in the development of many successful lighting products including world leading lighting consoles, unique laser controllers, and varied DMX gadgets. MagicQ in action From the formation of ChamSys development has been rapid with the first MagicQ console being tested in live environments in September 2003. Subsequently pre-production consoles were used on a number of major live events at the end of the year, including a massive New Years Eve party in London's Brixton Academy. During 2004 ChamSys worked with Lighting Designers to further fine tune the user interface and facilities. Unlike many companies we decided not to announce the product until we had finished development and had an extensive set of field usage to locate and fix software bugs. The MagicQ range was launched at PLASA 2004 and in the last four years has been sold all around the world. ChamSys has continued to develop new leading edge software hardware - 2006 saw the introduction of an entire range of PC Wings and the Macintosh and Linux versions of MagicQ PC, 2007 saw the launch of the Pro Series of consoles, and 2008 saw the launch of the Execute Wing and Media Timeline Features. Our Commitment ChamSys has a commitment to meeting the needs of lighting professionals using innovative designs and latest technology. Development does not stop at Release 1. The powerful system architecture enables an exciting roadmap of new features to be planned. ChamSys Limited is a company registered in England and Wales, registration number 4705608. VAT Number: GB 816 2677 18
Used Lighting Consoles
Find used lighting consoles and lighting desks in well maintained condition from such popular brands as MA Lighting, High End Systems, Avolites, Jands and Martin Professional. All used lighting consoles come with warranty and many have been certified by factory technicians. Solaris sells and buys secondhand and used lighting consoles desks for touring production, churches, theaters, film, television and more. If you do not find what you are looking for give us a call.