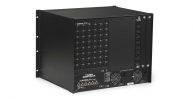 The MaDiRack comes as standard in the SD8 system and has 48 fixed inputs and 8 outputs, the output count can be increased to 24, these can be any combination of:- analogue, AES/EBU or AVIOM.
DigiCo
DiGiCo (UK) Limited brings together the design and development skills that have helped create some of the world's most popular, successful and ground-breaking live sound consoles, with the digital engineering expertise and manufacturing resources of Soundtracs. The company was formed in 2002 to develop the D5 Live digital mixing system, a revolutionary approach to both the live sound console and the way it interfaces with both ends of the audio chain. In basing a console around a powerful DSP engine using proven Soundtracs hardware and software, but with features dedicated to live sound mixing, DiGiCo created the world'??s first truly open-ended console system, for which additional features will be made available in new software versions. This design philosophy ensures your investment in state of the art audio technology today will remain state of the art in the future. The D5 Live from DiGiCo: science dedicated to advancing the art of live sound engineering. Soundtracs was formed in the early 1980s by a group of recording engineers in search of a better studio console than those available at the time. The team'??s success led to two decades of audio innovation and, in 1992, its first development of a digital audio mixing console. In 1996 this program led to the launch of the acclaimed Virtua console, followed a year later by the DPC, in 1998 the DS3 and in 2000 the D4. Since 2000 the company'??s product range has been based entirely on digital audio. Along the way a host of new technologies has been introduced, including the first use by a console manufacturer of the revolutionary Sharc DSP from Analog Devices, a faster, more efficient processor than any then on the market, the first (and still the most comprehensive) use of multiple TFT LCD touchscreens, a pioneer in the use of a 96kHz sample rate, and the first to run multiple sample rates simultaneously. This is just some of the experience that has gone into creating the D1 Live digital mixing system, the latest innovation from one of the pioneers of professional digital audio.
Used Amp Racks
Find used audio amps racks by top manufacturers such as Lab Gruppen, Crown, Crest, Powersoft and more. All products come with warranties and are tested before shipping to you. Solaris sells and buys secondhand and used audio amplifier racks for installations, concerts, churches, events and all types of entertainment production. If you do not find what you are looking for give us a call and we will quickly find it for you.