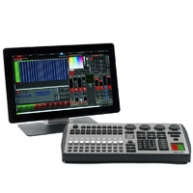 Equipped with a fast, dual-CORE processor with no external computer required, the M2GO answers the demand for a more powerful lighting console in a smaller form. It offers a professional level of features in a portable package and has been developed with cost, ergonomics, feature set, size and weight in mind. The Martin M2GO again sets a new standard as the most powerful and affordable full-featured lighting console on the market.
Martin Professional
Martin is the maker and distributor of entertainment control and intelligent lighting and effects. Martin uses the latest technologies to create these amazing machines for the entertainment industry. Martin is also a maker of high end sound systems known as
Used Lighting Consoles
Find used lighting consoles and lighting desks in well maintained condition from such popular brands as MA Lighting, High End Systems, Avolites, Jands and Martin Professional. All used lighting consoles come with warranty and many have been certified by factory technicians. Solaris sells and buys secondhand and used lighting consoles desks for touring production, churches, theaters, film, television and more. If you do not find what you are looking for give us a call.
M2GO - Martin Professional M2GO. Comes with a 10 day warranty.
M2GO Touchscreen Package - M2GO Touchscreen Package with flight case in great condition. Previously used on tours. Package incl...